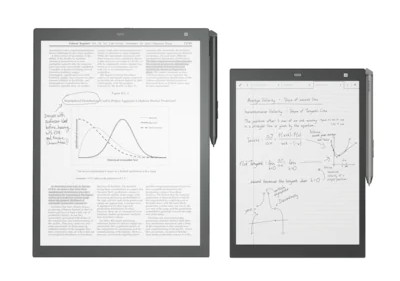 Sony has put their Digital Paper devices on sale at Amazon.
Both are $100 off the regular price. The 13.3-inch model has been this price before but $499 is the lowest the 10.3-inch Sony DPT-CP1 has sold for since it was released earlier this summer.
Unlike the sale on the Remarkable Paper Tablet yesterday, this is not a Deal of the Day so the offer should remain active for a few days at least.
Sony's Digital Paper devices are strictly digital notepads and PDF readers; they don't support any other formats.
They have 16GB of storage space with 2GB of RAM, and a quad-core 1.2GHz processor. There's WiFi and Bluetooth for transferring files. They have a capacitive touchscreen and come with a stylus for writing notes on the screen. Both models are exactly the same aside from the screen size difference.
The software isn't as advanced as the open Android 6.0 software on Onyx's ereaders but Sony's hardware is as good as it gets (I wish Amazon would copy their designs to use on Kindles).
For a closer look at each model in action here's the links to my Sony DPT-CP1 review and Sony DPT-RP1 review.