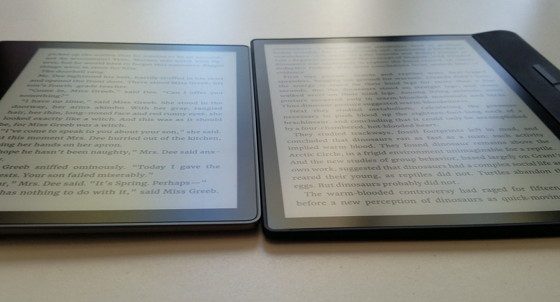 Ever since Kobo announced the new 7-inch Kobo Libra ebook reader, a number of people have been complaining about the fact that it has an indented screen.
"That's a deal breaker," some say. "I'll never buy an ebook reader with an indented screen again!"
Seriously? Is it really that big of a deal? It's like the USB-C controversy all over again.
Indented screens have some pluses and minus just like flush screens.
My biggest problem with flush screens is how dirty they get—they show smudges and fingerprints a lot more than regular E Ink screens.
Plus flush screens are more prone to accidental presses. For example, the side bezels on the Kindle Voyage are so small that I can't use the PagePress sensors without my thumb overlapping the screen and activating the touchscreen on a regular basis. If it had an indented screen this wouldn't be an issue.
There are two different kinds of indented screens. Ones with infrared touchscreens are indented further to accommodate the infrared sensors, whereas ones with capacitive touchscreens have a smaller recessed edge.
Devices with infrared screens do have an added issue where shadows can appear along the edges from the screen being indented so far, whereas devices with capacitive touchscreens like the new Kindle don't suffer from that issue.
Flush screens tend to come on the more expensive models, so it's kind of considered a premium feature. The original Kobo Aura was the first to come with a flush front screen. Now it's pretty common across brands.
Some flush screens have worse contrast because of the added layer over the E Ink screen, but that isn't always true. The Kindle Voyage, for instance, has a glass screen and it has the best contrast of any Kindle ever. It just depends, but generally the background color is slightly darker with flush screens.
Here's the list of the main advantages for indented screen and flush screens:
Indented Screen Advantages
Gives you something to hold onto with less chance of accidentally activating the touchscreen.
Less prone to fingerprints and smudges.
Better grip on matte plastic than slick glass.
Less glare than some flush-screen models.
Slightly better contrast without the added layer over the screen (not 100% of the time but usually there is a small difference).
Flush Screen Advantages
Looks cool.
Dust and dirt doesn't get caught at the edges of the screen.
Better frontlight (this isn't always the case but flush screens do seem to help with the evenness of the frontlight, less chance for shadow cones).
More durable in some regards, and less likely to scratch the light layer.
Personally I like intended screens better because they stay cleaner (some people say flush screens are easier to clean but I disagree) and are less prone to accidental presses. But I don't hate flush screens either, especially the plastic-based screens with a slight matte texture to them. I do dislike glass and feel that it should be phased out on dedicated reading devices, but it's not a deal breaker by any stretch.
So what about you? Do you prefer indented screens or flush screens on your ebook reader? And why?