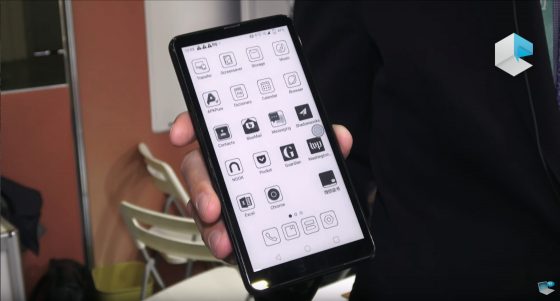 Onyx is showing off a new E Ink phone at CES that they're preparing to launch soon. So far it doesn't have a name and the product shown in the video below is still a prototype, but it's something new to expect from Onyx in 2020.
This is Onyx's second attempt at an E Ink phone. They released the Midia Inkphone back in 2014, but it wasn't very popular and they quickly abandoned it.
This new Onyx phone has a 5.8-inch E Ink screen, but it has narrower aspect ratio than a typical 6-inch ebook reader so it's smaller and more pocketable like a smartphone.
Like Onyx's other new reading and note-taking devices, the Onyx phone runs Android 9.0 with (unofficial) Google Play support and it's powered by an octa-core processor.
It also has a fingerprint sensor, a rear camera, speakers, a mic, and a USB-C port. It has a dual sim card slot and one slot can be used with a memory card.
The hardware details aren't set yet as they're still working through the process of finalizing the product.
Consequently Onyx's E Ink phone doesn't have an official release date or price just yet, but it's expected to hit the market in the first half of 2020.
It definitely looks interesting if the price is reasonable, but hopefully they get rid of the glossy layer over the screen.
First Look at Onyx E Ink Phone