Reduce Eyestrain When Reading eBooks By Using the 20-20-20 Rule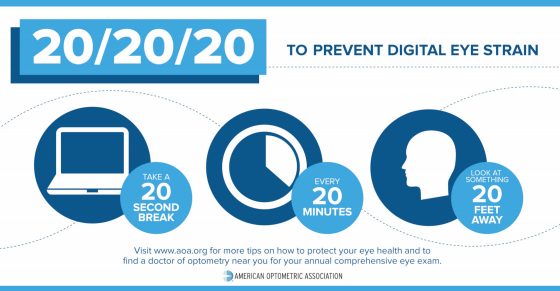 Have you heard about the 20-20-20 rule?
It was created nearly 30 years ago by Jeffrey Anshel, an optometrist, as a way to help minimize eye strain when spending long periods of time in front of computer screens.
Since then it has increased in popularity and has been adopted as a rule when staring at other digital devices as well, including the likes of phones and tablets.
Basically the way the 20-20-20 rule works is you're supposed to look at something 20 feet away for 20 seconds after every 20 minutes that you spend looking at a screen.
Taking regular breaks helps relax the eye muscles and can ease eye strain.
Many optometrists and even the American Optometric Association recommend the 20-20-20 rule.
There are apps designed to help you remember to take breaks every 20 minutes to look at something 20 feet away for 20 seconds.
I'm surprised none of the ebook apps or reading devices have the option to use the 20-20-20 rule. It would be easy to add a setting for a 20 minute timer as a reminder to take regular breaks.