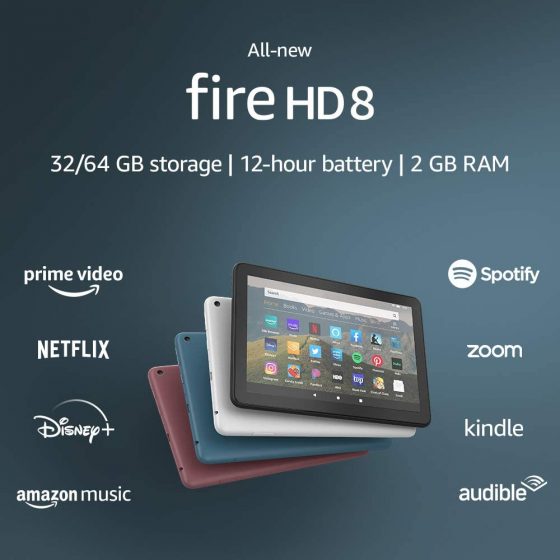 Today Amazon announced the upcoming release of a new lineup of upgraded Fire HD 8 tablets.
There are three different models: the Fire HD 8, the Fire HD 8 Plus, and the Fire HD 8 Kids Edition. All are available for pre-order right now with an expected release date of June 3rd.
The main upgrades with the Fire HD 8 include a 30% faster processor (2.0 GHz, up from 1.3 GHz), increased RAM (2GB), double the internal storage space (32GB/64GB), and they added a USB-C port.
The Fire HD 8 Plus adds wireless charging and even more RAM at 3GB, and it comes with 6 months of Kindle Unlimited for free.
The Fire HD 8 Kids Edition is the same as the regular Fire HD 8 but it comes with a case with an adjustable stand, an upgraded 2-year warranty, and a 1-year subscription to Amazon FreeTime Unlimited.
The base Fire HD 8 starts at $89 for the 32GB model, up $10 from the previous version. The Fire HD 8 Plus starts at $109 and the Kids Edition sells for $139.
Battery life is estimated at 12 hours for mixed use, up from 10 hours on the last model, and they still have microSD card slots, which have been bumped up to supporting 1TB cards.
Unfortunately the upgrades don't include an improved display. The new Fire HD 8 tablets still sport the same 8-inch 1200 x 800 resolution screen as before. They can be used for reading if you don't mind slightly fuzzy text, but with only 189 ppi they are far from ideal as reading tablets—that's where Kindles come in with 300 ppi E Ink screens that are designed for reading.