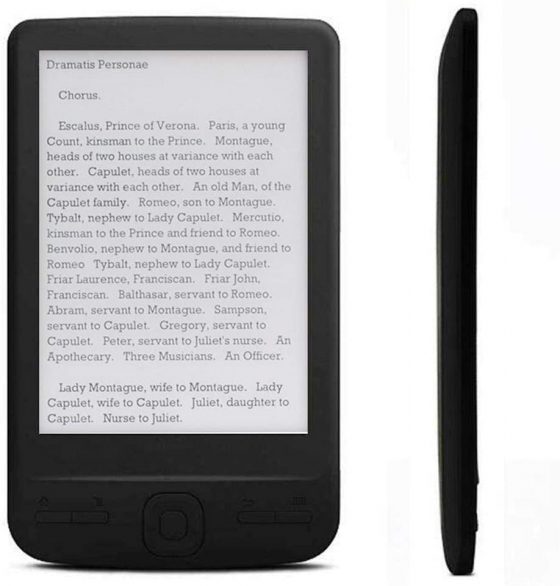 If you browse the depths of Amazon's ebook reader section, you'll come across a bunch of cheap no-name ebook readers with crummy software and old E Ink screens from like 10 years ago.
Most of these devices aren't worth the time it takes to look at them, but I recently came across several listings for a 4.3-inch ebook reader that brings back memories and raises several questions about its origin.
The device looks exactly like the Trekstor Pyrus Mini from way back in 2012. It lacks the "Trekstor" logo but otherwise looks identical; it even has the buttons along the side for turning pages, which I always liked and can't figure out why no other ebook readers have them.
One notable difference, the Pyrus Mini only had 2GB of internal storage, whereas this one says it has 8GB. You can't trust any of the listed specs for these cheap generic models because most are clearly wrong, but in this case a picture of the back shows an 8GB sticker so that would seem to be correct.
The big question is what kind of screen does it have? One thing that made the Pyrus Mini unique was the fact that it had a Digital Ink screen instead of an E Ink screen. E Ink put Digital Ink out of business so they could continue to monopolize the epaper market without any competition. So does this new device use old Digital Ink screens that were laying around or are they using E Ink screens?
The device is being sold by several different vendors anywhere from $88-$130. One vendor claims the device is waterproof and has a frontlight with adjustable color temperature, but I don't believe that is true.
I really like how pocketable and portable 4.3-inch ereaders are. I regretted getting rid of the Pyrus Mini for that reason, but the software wasn't very good. Too bad there aren't any reputable ereader companies putting out 4.3-inch models. Smaller ebook readers used to be more common 7-10 years ago. Now 6-inch ebook readers are the smallest option available, and to me they're just a little to large to comfortably carry around everywhere in a pocket.
I'm tempted to get one of these generic 4.3-inch ereaders to try out, but the software is almost certainly awful. It's weird to see these available again after so many years.