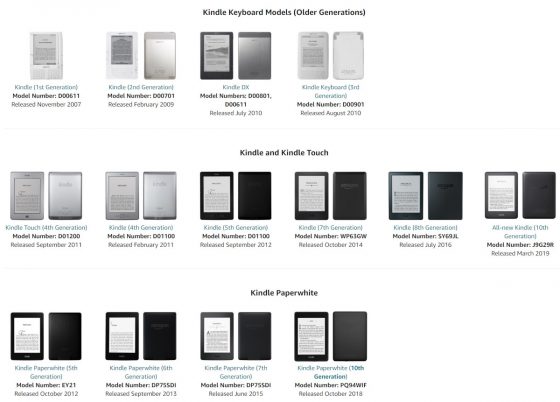 One of the cool things about Kindles is Amazon offers a trade-in program where you can trade an old Kindle for a gift card credit, plus Amazon will give you 20% off the purchase of a new Kindle, and you can even maximize the savings by using the discount when Kindles are on sale.
However, the value of some older Kindles has dropped dramatically since last year. Prices have gone down so much on models like the Kindle Paperwhite that it might not be worth trading them in anymore unless they are broken or the battery is going bad.
Last year you could get $25 in credit for older Paperwhites, even the 1st generation model, but now Amazon will only give you $5 for a working Paperwhite (models 1-3), the same as a broken one.
The value of the Kindle Voyage also dropped drastically from $50 to only $10.
Frankly the price drops don't make much sense considering they'll still give $15 for a Kindle 4 from 2011.
The trade-in values for current 10th generation Kindles is the same as last year, so at least there wasn't a decline there, but how often are people going to trade in a current model anyway, unless upgrading to an Oasis.
It is worth noting that Amazon accepts Kindles in trade even if they are broken. You can still get $5 plus 20% off the purchase of a new Kindle. It's a good way to get rid of a broken Kindle, at least.
Below are the current trade-in values for all Kindle models via Amazon's Kindle Trade-In page as of August 26th, 2021. The price in parentheses is the former trade-in value from last year's list in November 2020.
Kindle Trade-in Values – August 2021
Kindle 1 – $5
Kindle 2 – $5
Kindle DX – $5
Kindle Keyboard (3rd Gen) – $5
Kindle Touch (4th Gen) – $5
Kindle (4th Gen) – $15
Kindle (5th Gen) – $15
Kindle (7th Gen) – $10 ($15)
Kindle (8th Gen) – $15
Kindle Paperwhite (1-3) – $5 ($25)
Kindle Paperwhite 4 – $30
Kindle Voyage (7th Gen) – $10 ($50)
Kindle Oasis (8th Gen) – $60
Kindle Oasis (9th Gen) – $75
2019 Kindle – $20