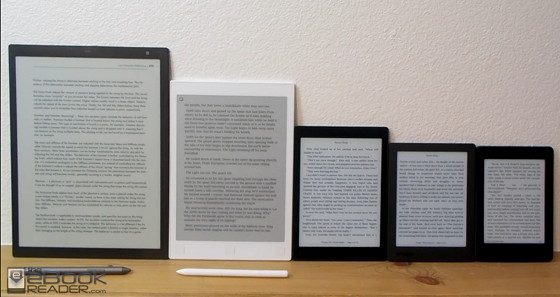 I saw this topic mentioned over at MobileRead and it's an interesting question.
How many ebook readers do you own? Are they all the same brand or do you own multiple types of ereaders?
It seems like lots of people have more than one.
It's not uncommon for someone to own more than one Kindle; lots of people have upgraded to newer models over the years and still have an older one laying around.
Amazon's Kindle trade-in program is a good way to get rid of older Kindles and to save some cash when buying a new one, but some would rather keep their old Kindle for a backup or give it away.
Personally I usually have at least two ereaders in use at once. Lately I've been switching back and forth between the Kindle Oasis 2 and the Kobo Aura One for reading ebooks, although the Kindle has been getting the most action lately, and the Onyx N96 gets put to use for PDFs.
I have several other models in the closet but they don't get used very often anymore. At one point I had like 20 from doing so many reviews but I had to start getting rid of them because I don't like having ereaders that I don't use given the fact that their batteries wear out over time.
It's nice having different brands to choose from. You can use a Kobo for Kobo books and a Kindle for Kindle books without having to mess with downloading every book you buy, removing the DRM, and converting it to other formats.
Owning multiple ereaders isn't a practical solution for everyone, but it's a nice option to have if you read a lot, especially if you don't want to settle on using one main source for ebooks.
So how many E Ink ereaders do you own? If you have more than one, how many do you use regularly?