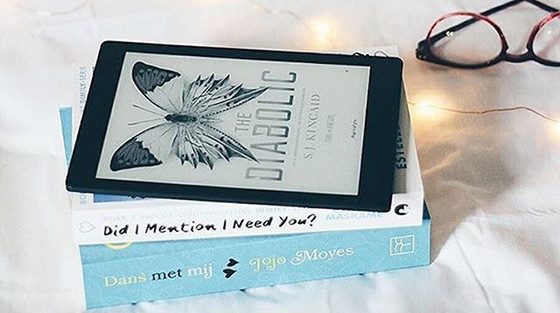 One thing I appreciate about Kobo ereaders is the fact that they show the cover of the book that you're currently reading on the screen when the device is in sleep mode or turned off.
I don't know why showing book covers on the sleep screen isn't a common feature across all ereaders. It makes the experience more book-like when you set down an ereader with a nice detailed book cover on it, and it entices you to pick it back up to start reading again when you see the cover of a good book you're reading.
Of course it doesn't matter much if your ereader is in a case all the time with the front cover closed, but otherwise it's a nice feature to have.
Most ebook readers just show some logo or random image on the screen when the device is sleeping.
Kindle screensavers are the worst. You get advertisements unless you pay $20 extra, and even then you just end up with a collection of random pictures that have nothing to do with reading ebooks.
People have been hacking their Kindles for many years just to be able to customize the screensavers.
Is it so much to ask to simply display the cover of the book you're currently reading when in sleep mode?
It seems like that should be common sense, but instead we're stuck looking at pictures of pen caps and the bottom of unsharpened pencils. That's if you're not getting ads for romance novels…