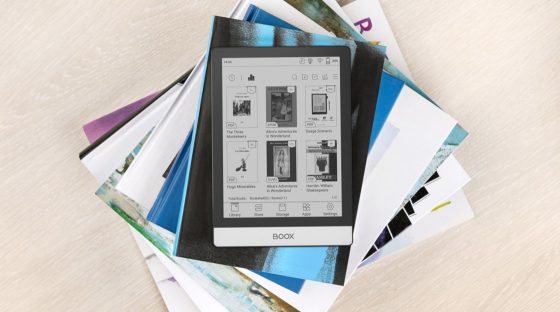 Onyx released a new 6-inch ebook reader last month called the Boox Poke2.
A few YouTube video reviews have started to turn up showing the Poke2 in action. I decided not to review this model since Onyx is expected to release a color version in a few months.
The Poke2 runs the same software that's based on Android 9 like Onyx's other ereaders, but the user interface has been modified a bit to accommodate the smaller screen.
It has an 8-core processor with 2GB of RAM and 32GB of internal storage space. It also has Bluetooth and supports dual-band Wi-Fi.
The 6-inch E Ink Carta screen has 300 ppi and the frontlight has color temperature adjustment.
Onyx is marketing the Poke2 as a smaller and lighter version of the previous model. It weighs just 150 grams, down from 170 grams. However, the battery capacity is significantly lower at 1500mAh versus 2500mAh on the Poke Pro.
The Poke2 adds a mic and USB OTG support, but it still uses the older micro USB connector.
It's a nice-looking ereader—I like the new design—but I'm not sure how many people are going to be willing to spend nearly $200 on a 6-inch ebook reader that isn't waterproof and lacks buttons and a memory card slot, that's still using a micro USB connector and doesn't have a Wacom touchscreen for taking notes like Onyx's larger models. While it does have a lot going for it with the Android 9 OS and upgraded specs, it's a lot more expensive than other 6-inch ebook readers.
Plus Onyx doesn't sell the Poke model on Amazon like their other ereaders so it has to be ordered directly from Onyx's website, and it's currently sold out until the end of June. By then they'll probably have the color version available to order…
Video Review – Boox Poke 2