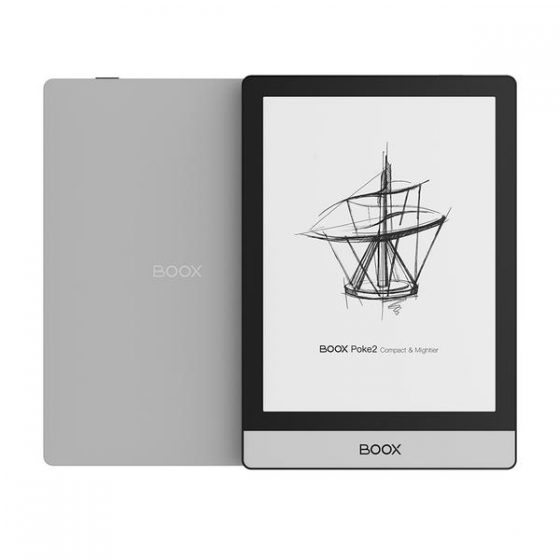 Onyx has announced the upcoming release of two new 6-inch ebook readers in their Poke line, the Poke2 and the Poke2 Color.
They're accepting orders for the Boox Poke2 on their website for $189 USD, making it the most expensive 6-inch ebook reader on the current market, and it's not even the color version.
The Poke2 Color is still a mystery. It's briefly mentioned at the end of Onyx's announcement for the Poke2 with no further details provided whatsoever, just an unrealistic computer rendering (see below).
Teasing the Poke2 Color at this time seems like an odd thing to do. It's more likely to hurt sales of the Poke2 if people think a color version is coming soon.
This confirms my suspicion that color E Ink screens are still inferior to regular black and white E Ink screens. If text was just as crisp and clear on the color version then there would be no need for a separate black and white model.
The Poke2 is kind of like a smaller version of the new 7.8-inch Onyx Nova2, minus the Wacom touchscreen and it has a micro-USB port instead of a USB-C port, and it only has 2GB of RAM instead of 3GB.
The Poke2 also has a new updated design. Onyx is claiming it's the smallest ebook reader in the industry, weighing just 150 grams.
Like the other current Onyx ereaders, the Poke2 runs Android 9.0 and is open to install apps. It has a 2.0GHz octa-core processor with 32GB of internal storage space. It also has dual band Wi-Fi, Bluetooth, a microphone, and USB OTG support.
It has a 300 ppi E Ink screen with an adjustable warm and cool frontlight. They say it uses a "4th generation" E Ink Carta screen for "sharper and clearer text".
For some reason Onyx doesn't sell their 6-inch ereaders from their Amazon store (it's like they're afraid to offend Amazon by directly competing with Kindles) so if you want to get a Poke2 you'll have to order it from Onyx's website or from Aliexpress.
Again, they haven't provided any details about the upcoming Poke2 Color, but it looks like a few companies will be coming out with 6-inch color E Ink ereaders later this year, including Pocketbook in Europe and the iReader C6 in China.