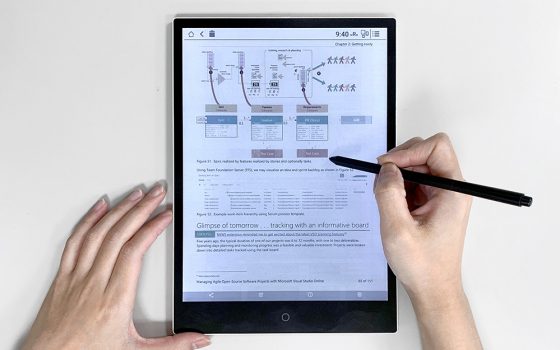 E Ink is going to attempt to get another color ebook reader on the market (hopefully things go better than last time with the Jetbook Color), and some color E Ink e-notebooks too.
E Ink recently announced that they've developed a new color technology called Print-Color E Ink, an offshoot of their ACeP color displays, which are aimed at digital signage markets in retail.
Among the intended uses for Print-Color E Ink is color ereaders and e-notebook for the education and business markets.
They say the new Print-Color screens are faster than previous color screens, similar to their monochrome counterparts, and they are thinner and lighter than before.
E Ink also claims the new screens have "higher optical quality".
Details are slim at this point, but E Ink is first going to target the education market and professional applications. At this stage the price is probably too high to target the consumer market, but that could change in time.
Ultimately the price of these new color screens from E Ink will be a big factor with LCDs screens as cheap as ever. Current ereaders and e-notebooks with 10.3-inch black and white E Ink screens like the Onyx Note2 and Sony DPT-CP1 cost anywhere from $450-$600. How much are they going to charge for devices with color screens? $800-$1000? Maybe more?
Are there enough people interested in these types of devices that will be willing to pay a premium price for something that's never going to match LCD color and performance? One theme that keeps coming up in recent years is they keep insinuating that E Ink screens are healthier for your eyes than LCD, but there is still no scientific evidence to support these claims. If that changes, then perhaps color E Ink will become more appealing to a wider audience.
Color E Ink Displays
via: CTIMES