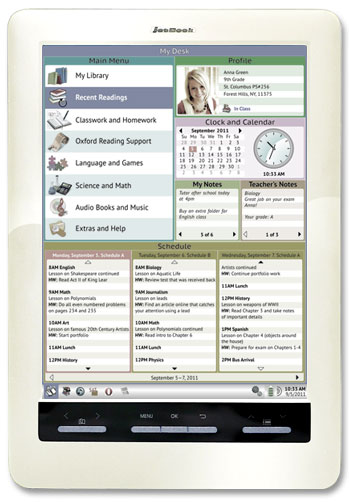 Color E Ink has been out for over a year now, and finally the first ebook reader to use color E Ink is about to arrive here in the United States.
I've posted about it before; the device is called the jetBook Color, and is aimed at the eduction market, not the ebook reader market. It is more of an educational tool designed for textbooks rather ebooks, but it will display ebooks as well.
The jetBook Color is available for pre-order from Ectaco.com for $499, and is expected to start shipping on January 15th, 2012. It is available worldwide.
That is going to be a tough sale at that price, but new technology is always more expensive than it should be. That's the price you pay for being an early adopter. Unfortunately that means I won't be buying one. But I requested a review unit and Ectaco said that they would lend me one, so check back soon. You can subscribe to The eBook Reader Blog to keep updated.
The jetBook Color is a 9.7″ ereader. It features an E Ink Triton display that uses the same exact technology ereaders like the Kindle and Sony ebook readers use, but it has a filter over the top that gives the screen the ability to display thousands of colors instead of just black and white.
There are a couple of videos showing the jetBook Color in action on this earlier post.
JetBook Color Specs and Features
Triton Color E Ink screen
9.7″ Display
1600 x 1200 resolution
Load Your Own Content
Support for: Adobe DRM 9.1, ePub, Mobi, PRC, RTF, TXT, PDF, FB2, djvu, JPG, Gif, PNG, BMP (more to come)
Wi-Fi enabled with browser
Fluent Text-to-Speech can read you any book
10,000 page turns on a single charge
Support via microSD for up to 32GB
Sleek protective carrying case included
Underline and highlight text
50-state reading list
Fully interactive SAT course
"Overdrive" library access
Wireless access to online textbooks, www.ck12.org and other resources
Speed Reading course
Talking Oxford Dictionaries
Course of English and foreign language grammar
Speech recognition and speech analysis Language Teacher and U-Learn courses that teach you a language step by step
Pictured dictionaries for 38 languages
Cross translator for 180 languages
Vocabulary Builder
Linguistic Crosswords
Reference materials for Math, Physics, Chemistry, Biology, Geography and Earth Science
Interactive Periodic Table of Elements
Graphing and scientific calculators
And much more!