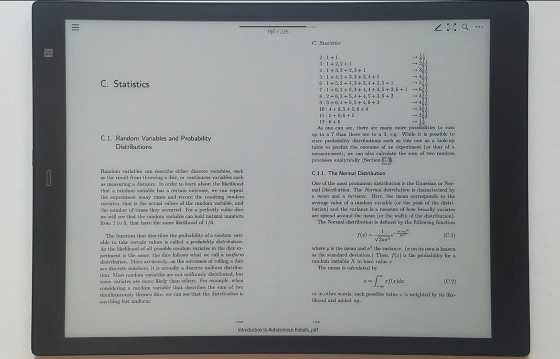 Sony's latest 10.3-inch Digital Paper device was released in the US last week.
The Sony DPT-CP1 is pretty much exactly the same as the 13.3-inch Sony DPT-RP1 that was released last year. The only notable difference with the CP1 is the smaller size.
The most impressive thing about the Sony DPT-CP1 is how thin and light it feels in your hand.
I put it on a digital scale and it only weighs 234 grams, which is almost exactly half the weight of the latest 9.7-inch iPad.
If you have a 6-inch ebook reader in a cover it most likely weighs more than the CP1. That's seriously impressive considering the large 10.3-inch screen.
However, while the hardware and design are very impressive, the software continues to be a disappointment.
Like the larger RP1, it only supports PDF format and it can't connect to the internet and you have to use an app to transfer files.
Sony recently updated the software on their Digital Paper devices to add a few new features, like page jump, panning while zoomed in, and support for filling in forms, but there's still no table of contents, no way to go back to previous pages, no dictionary, no cropping, and no boldness settings.
Sony recently released a new Digital Paper app for Android and iOS to transfer files from a phone or tablet, but it turns out you still have to setup the main Digital Paper app on your computer first before you can even use the device.
I tried using the app to transfer files from a Samsung Galaxy s7, but unfortunately I couldn't get the NFC feature to work—nothing happens. You can also transfer files via Wi-Fi from the app, but it requires both devices to be connected to the same Wi-Fi network, which makes using a "mobile" app kind of pointless.
Quite frankly I have no interest in using Sony's Digital Paper devices anymore. The software is far too limited compared to the Onyx Boox Note and Max2.
The only reason to get a Sony over a Boox is if you really want the higher security, a more paper-like writing experience, and better build quality. The software on the Onyx is light-years ahead of the Sony in terms of overall features. Sony's design is much nicer but from a usability perspective their devices are just so limited it's frustrating to use them. They make everything more of a hassle than it needs to be, from loading documents to navigating files. They took a niche product and made it even more niche; even as a PDF reader it's really only suitable for certain types of PDFs.
I just wish we could put the Onyx software inside of Sony's hardware; then we'd have a truly exceptional device.
Sony DPT-CP1 Video Review