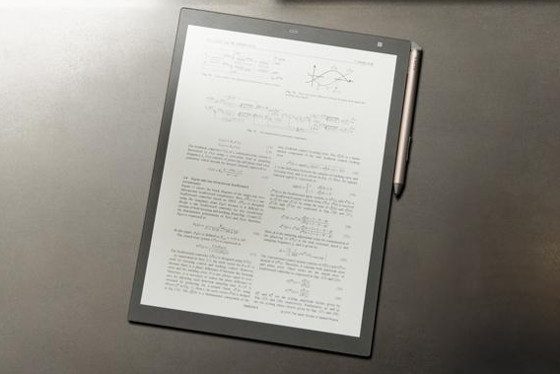 Sony has started sending out emails to owners of the Sony DPT-RP1 with details about a new upcoming firmware update.
They're also going to be releasing new mobile apps for Android and iOS to transfer files to and from the Digital Paper device without having to use a computer.
The firmware update will be available to download starting May 30th, and the mobile apps are getting released in June.
Sony has a new smaller 10.3-inch model, the Sony DPT-CP1, coming out next month so this update was expected since they'll both be running the same software.
The RP1 was released 1 year ago next month so it's about time Sony came out with an update, especially considering the lack of some common features.
Unfortunately the update still doesn't add table of contents support, but they did add some helpful features, and I think a lot of people will appreciate the mobile apps, not being tethered to a computer to transfer files.
Here's the list of changes with the firmware update:
Screen Capture/Display Output Mode—connect via PC or Mac to a projector and display the contents on the Digital Paper screen, including real-time handwriting and mark-up, to a larger audience
Interactive PDF and Smart Forms—populate forms using drop-down menus, check boxes and radio buttons for easy, structured data capture
Page Jump—enter a page number and go directly to that specific page
Pan and Zoom—move the display area after a page or portion of the page has been enlarged
Automatic Page Rotation—pages from a document, book or article will automatically rotate as needed to optimize the reading experience
Page Thumbnails Mode—view 16 pages of a document, book or article at one time