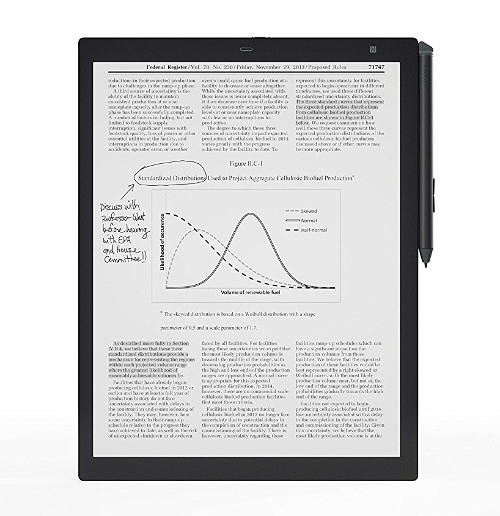 Review Date: July 2017 – Review unit purchased from Amazon
Overview
The Sony DPT-RP1 is Sony's 2nd generation 13.3-inch Digital Paper device. It was released in June 2017 in the US and Japan.
It features an upgraded higher resolution and higher contrast E Ink screen, along with a faster processor, a more accurate stylus pen, and completely reworked software.
The Sony DPT-RP1 is a niche product that is designed as a paper replacement device. It is made for reading PDFs and for creating handwritten notes only. It does not have web access and it does not support ebook formats.
The Sony DPT-RP1 sells for $699 from Amazon and B&H. The US version is black and the Japan model is white.
Sony DPT-RP1 Review
Pros
The large 13.3-inch E Ink screen looks fantastic, the text is very clear and easy to read, and it's the perfect size for PDFs.
The device is exceptionally thin and lightweight, and comfortable to hold for long periods.
The stylus pen works well, using it feels like writing on paper.
PDFs are fast to load and turns pages, even large 100+ MB PDFs.
Cons
Only supports PDF format; limited software features.
No memory card slot and no internet access.
Stylus tips wear out and have to be replaced.
Must use desktop app to transfer files to and from the device.
Verdict
The Sony DPT-RP1 has one main flaw: the software is too basic. The lack of common features is perplexing considering the cost of the device and the fact that it's supposed to be a specialized PDF reader. But currently it offers less software features than the 1st gen model, the DPT-S1, and you can find 10x more advanced features in a free PDF app like Foxit.
Despite that, somehow I still can't help myself from really liking the Sony DPT-RP1. The screen just looks so good and the device is so thin and light and quick to respond that it's a joy to use, and there are some workarounds for the software deficiencies that help make things more manageable.
Once Sony updates the software is has potential to be a really nice product, but it's never going to be more than a PDF reader and digital notepad. For those that need something more advanced the 13.3-inch Onyx Boox Max Carta is going to be a better option with its open Android operating system and wider range of software and hardware features.
See here for an outline of the differences between the Sony DPT-RP1 and Onyx Boox Max.
Sony DPT-RP1 Video Review
Hardware
The most impressive thing about the DPT-RP1 is the design. It's very thin at just 5.9mm and it only weighs 349 grams—that's incredibly light considering the 13.3-inch screen and is less than the Fire HD 8 tablet that I just reviewed.
It has a flush screen with a paper-like texture to it. The back also has a slight rough texture that keeps it from slipping in your hand.
There's a button at the top of the screen under the bezel that opens a menu, with a reset port, power button, and USB port above it on the edge.
Unfortunately there is no memory card slot like on the previous model, just 11GB of usable storage space. It has Wi-Fi and Bluetooth but both can only be used for transferring files from a PC or Mac computer with the Sony app. No internet, no keyboards, etc.
The Sony DPT-RP1 comes with a stylus pen for writing notes and drawings on the screen. The stylus has its own built-in battery, along with two buttons, one you press for highlighting and one for erasing. The stylus tips are replaceable, and there are two kinds of tips for a pen or pencil type feel.
For the most part the stylus works quite well and feels surprisingly similar to writing on paper. There's a slight delay with the E Ink but you get used to it pretty fast. The only problem I have is that sometimes the stylus doesn't work well for selecting menu items, the touch doesn't register, so I mostly use a finger for that stuff and only use the pen for writing.
The only other issue with the stylus is there is no battery indicator so you have no way of knowing how long it will last. Sony says the average battery life is about one month when writing for sixty minutes per day, so as long as you charge it each time you charge the reader it shouldn't be a problem.
I can't say enough about how good the 13.3-inch screen looks. It has the newer Carta screen for better contrast and the resolution has been bumped up to 2200 x 1650. Text is nice and dark and there's no light shining into your eyes. Hopefully the price of these 13.3-inch E Ink screens continues to go down because they are great, especially for PDFs.
Another strength of the DPT-RP1 is the quad-core processor. PDFs load fast, page turns are smooth, navigating is quick, even with large documents.
Software
The software on the Sony DPT-RP1 feels like a work-in-progress. What features it does have work well and the software is quick to respond but it's just so basic.
There's no table of contents. No bookmarks. No way to jump to specific pages. No back button after using a hyperlink. No scrolling when zoomed in. No pinch-zooming. No dictionary. No tabs. None of the stuff you'd expect from an advanced PDF reader.
Sony reps have stated that they plan to add more features via a software update, but that remains to be seen.
One of the features it does have is search, which works well and includes the option to search special marks added with the stylus. The marks are a good workaround for adding bookmarks and going back to a previous location, and the search results remain on the list so it's only a couple of presses to use.
You can also view a list of highlights and handwritten notes to help navigate around a PDF.
For smaller PDFs the lack of navigation options isn't too bad because you can view 16 pages at one time, so scrolling through that goes pretty quick, and there's a page dial on the top menu that's fairly accurate when dragging to a specific page, but a page entry option would be a lot faster.
The same applies to the main list of documents; you can't select a specific page to jump to, so if you have a huge library of files it would be a royal pain to find anything unless you use search. But it also supports folders and nested folders so navigating that way is quicker than viewing the documents list.
While basic, the software has some really cool features. You can view two separate PDF files in the same window, or the same file twice, or view two pages at once like a book. You can also have a notepad open on one side of the screen and a PDF of the other to easily take notes. You can write notes directly on the PDF too. These get save to the file and will be synced with the app and viewable on your computer and in other PDF apps.
Sony DPT-RP1 Notes and Writing Review
The Sony DPT-RP1 is just as much a digital notepad as it is a PDF reader. It has several notes templates included, and you can also add your own. There are five levels of pen thickness to choose from, along with red or blue ink (the colors aren't visible on E Ink, just light and dark).
One of the things with the DPT-RP1 is it's pretty clear that Sony wanted to make it as secure as possible. It has password protection and data encryption, and it has no internet access. All content has to be routed through the Sony Digital Paper app for PC or Mac.
The app is a bit of an inconvenience but it works well and isn't as restricted as it would seem since it can sync with a folder on your computer so you can still use cloud services like Dropbox. For example, I'm able to send PDFs from my Android tablet to Dropbox, which syncs on my PC with the Sony app to send the file to the reader. The only stipulation with that is the Sony app has to be open on your computer to auto sync with the cloud folder and the DPT-RP1.
According to some people at MobileRead, the Sony DPT-RP1 runs Android. Some people are working on hacking it in order to install apps but I think they're crazy to go poking at the software of a $699 device, especially when the Onyx Boox Max Carta has the same screen and already has open Android and the ability to install apps out of the box.
Hopefully Sony continues to develop the software because the hardware is outstanding. It needs more navigation features for starters, but I doubt they'll ever open internet access or anything like that. Still, it could be a really nice paper replacement device once the software is more refined. I'll post an updated video review if Sony updates the software anytime soon.
Sony DPT-RP1 Specs
13.3-inch E Ink Carta display with flexible substrate
2200 x 1650 resolution
Capacitive touchscreen
Stylus pen included, with built-in rechargeable battery
Marvell IAP140 quad-core 1.2GHz processor
16GB internal storage (11GB usable)
2GB RAM
Dual-band Wi-Fi (for transferring files only)
Bluetooth 4.2 (for transferring files only)
NFC unlock feature
Battery life: 1-3 weeks
Weight: 12.3 oz. (349 g)
Dimensions: 8.82″ x 11.9″ x 0.23″ (224 mm x 302.6 mm x 5.9 mm)
Price: $699 at Amazon