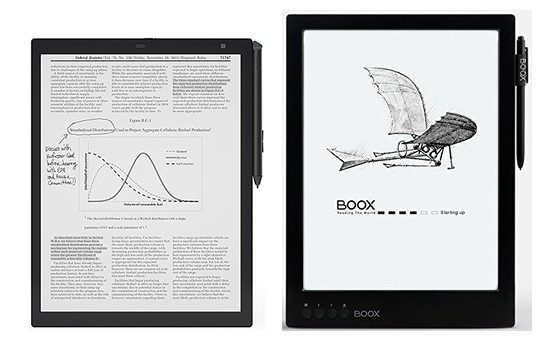 Yesterday I posted a video and first impressions review of the new Sony DPT-RP1, and some folks (myself included) were wondering how it compares to the Onyx Boox Max Carta.
I don't have access to the latter so this isn't going to be a hands-on comparison, more of a general comparison outlining the main differences between the two, but I did review the Onyx Boox M96 a few years ago it had the same Android 4.0 software as the current line.
The Sony DPT-RP1 and Max Carta are currently the only two ereaders on the market that feature the latest 13.3-inch Carta display from E Ink.
Despite having the same exact screen, they are two very different devices.
The Sony only supports PDF format and is marketed more as a paper replacement device for business and academic institutions.
It has no internet access and it does not support ebook formats. It's primary use is to read PDFs and to write notes.
The Onyx Boox Max is a lot more versatile with its open Android operating system that's capable of installing various apps. Android can be a hindrance as much as it can be an advantage, however. It uses more battery power, it's less optimized (slower and clunkier), and 99% of Android apps aren't designed for E Ink screens so they often present problems with excessive screen flashing, sometimes menus are unreadable, and a lot of apps are just flat not compatible.
On the surface, the Max Carta looks like the better device because of all the extra software features (including a more advanced PDF app) and the fact that it adds a microSD card slot and support for audio.
However, the Sony DPT-RP1 has some significant advantages of its own, like having support for finger touch and having a faster, more accurate stylus pen for writing notes on the screen. The Sony DPT-RP1 is also much lighter (by 200 grams!) and thinner, and it has a faster quad-core processor compared to the single core processor on the Max.
The price of the two devices isn't far off. The Sony DPT-RP1 sells for $699 and the Onyx Boox Max Carta sells for $789 at Amazon, but it's currently on sale at Banggood for $659.
Sorry about the lack of border lines on the table below. The theme automatically removes them and I can't figure out how to override it. Now I remember why I stopped using tables a long time ago…
Sony DPT-RP1 vs Onyx Boox Max Carta
Sony DPT-RP1
Boox Max Carta
Screen
13.3-inch E Ink Carta (1650 x 2200)
13.3-inch E Ink Carta (1650 x 2200)
Touch
Fingers + Stylus
Stylus
Processor
Marvell IAP140 64-bit Quad-core
Cortex-A9 1GHz (single core)
Operating System
Android 5.1.1
Android 4.0
Storage
16GB
16GB, microSD cards up to 32GB
RAM
2GB
1GB
Wireless
Dual-band WiFi, Bluetooth 4.2
WiFi, Bluetooth 4.0
Web Browser
No
Yes
Frontlight
No
No
Page Buttons
No
Yes
Formats
PDF
PDF, TXT, HTML, EPUB, CHM, MOBI, FB2, DJVU, MP3, WAV, JPG, PNG, TIFF, BMP
Weight
349 grams
550 grams
Size
224 mm x 302 mm x 5.9 mm
237 mm x 325 mm x 7.5 mm
MSRP
$699
$659-$789