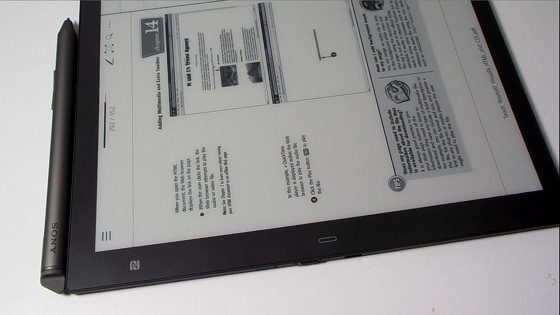 Sony's latest 13.3-inch Digital Paper PDF reader, the DPT-RP1, was released in the US earlier this week (and in Japan earlier this month). It's a specialized device designed to replace paper in various business and academic fields, and it's useful for a number of other PDF-related applications as well.
The 1st gen Sony DPT-S1 was the first device to feature a 13.3-inch E Ink screen, but I never got a chance to see it in person. Now that they've lowered the price with this 2nd gen model and upgraded the display to have higher resolution and better contrast, I decided to buy a Sony DPT-RP1 to get a closer look at the unique screen.
For now I'm just going to post a 1st impressions review, but I'll post other reviews and videos over the next few weeks.
Let's start with the good stuff first.
The device is unbelievably thin and light. It's nothing like a tablet and nothing like an ereader. It feels like a completely different type of product.
It only weighs 12.3 ounces, which is just crazy for a device with a 13.3-inch screen. By comparison the new 12.9-inch iPad Pro weighs 1.5 pounds.
The upgraded higher resolution Carta screen on the DPT-RP1 looks superb, and the included stylus works surprisingly well for writing and drawing on the screen.
With E Ink there's a little lag when writing but the pen is accurate and feels natural. The screen has a texture to it that makes it feel like writing on paper.
So as far as viewing PDFs and writing notes on them, the Sony DPT-RP1 is absolutely great—the hardware is amazing.
But when it comes to navigating PDFs, the software leaves something to be desired.
There's no table of contents. No way to jump to specific page numbers. There's not even a back button to go back to the previous location after using an embedded hyperlink.
How can a $700 device with the singular function of being a PDF reader lack such basic functions? It's mind-boggling!
A $100 6-inch Kindle Paperwhite has those features and plenty others the Sony DPT-RP1 lacks, like pinch-zooming and scrolling, the ability to add text notes with the keyboard, and the ability to look up words in the dictionary and search online.
I just don't see how Sony could leave out such basic navigation features. Hopefully a software update remedies this serious deficiency sooner than later.
Another odd thing about the DPT-RP1 is the fact it has no internet capabilities whatsoever. The Wi-Fi is strictly for transferring files to and from a computer. A PC or Mac computer is required to load content onto the device via the Digital Paper app, but at least the app works well and you can sync it with folders on your computer, including cloud services like Dropbox.
I'll post a full review after using the DPT-RP1 more (hopefully after a much-needed software update). Here's video review showing the device in action. It's already sold out at Amazon but they should be getting more stock in by the end of the month.
Sony DPT-RP1 Video Review