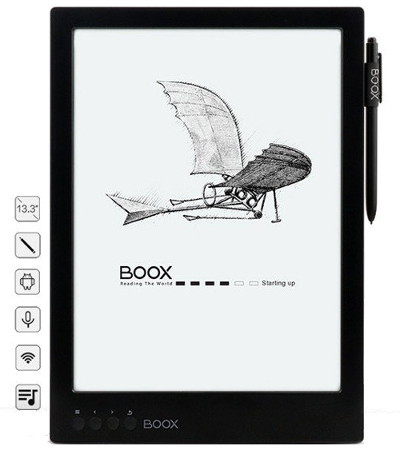 Onyx has released a newer updated version of their 13.3-inch Onyx Boox Max that comes with an upgraded higher resolution E Ink screen.
The new version is called the Onyx Boox Max Carta, and it's now available from Banggood for $679 USD with free shipping.
It went up for pre-order at the end of last month and it just started shipping last week.
All the features and hardware are the same as the previous model; the screen is the only difference between them.
The original Max had an E Ink Mobius screen with a resolution of 1600 x 1200. The newer version has a 2200 x 1650 E Ink Carta screen.
That bumps the pixels density up from 150 ppi to 212 ppi so text is sharper and clearer and the screen has better contrast with the Carta display.
Otherwise the Carta version has the same features as the previous model. It runs Android 4.0 and comes with 16GB of storage space, with a memory card slot for expansion, Bluetooth and Wi-Fi for connectivity, and it has an electromagnetic stylus pen for on-screen writing and note-taking.
It also supports audio and text-to-speech, but it lacks a frontlight and the touchscreen supports stylus touch only.