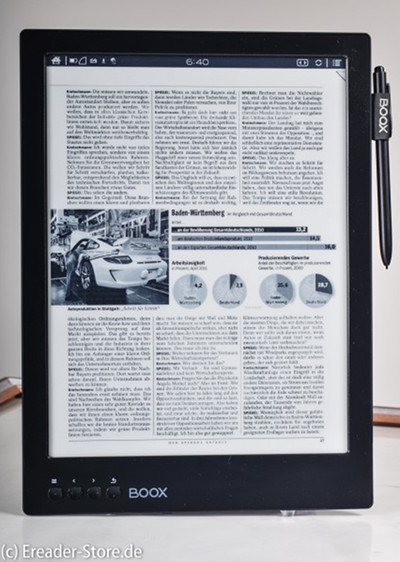 Earlier this month some rumors started surfacing about a new Onyx Boox Max with a higher resolution screen coming out soon, along with a Max 2 later in the year with some hardware upgrades.
Things must be moving along smoothly because one of Onyx's authorized resellers, eReader-Store.de, has started taking pre-orders for the Onyx Boox Max Carta.
It's expected to start shipping on April 20th, so that's just a few weeks away.
The price is 669 euros (about $720 USD), 796 euros with taxes included (where applicable).
That's about $40 more than the 1st gen Onyx Max is selling for from Banggood right now so it's not a huge difference.
The new Onyx Boox Max Carta appears to be the same as the original Max, except it comes with a higher-resolution Carta screen that also has better contrast than the Mobius screens used on the original.
The Carta is still plastic-based like the Mobius so that it's very lightweight and durable, which is more important with a large 13.3-inch screen than a typical 6-inch screen.
The Max Carta has a screen resolution of 2200 x 1650. That's up from 1600 x 1200 on the 1st gen Max. That bumps the ppi up to 207 from 150—a considerable improvement.
The other specs are the same as the original Max. It comes with 16GB of storage space, there's a memory card slot, it has Bluetooth 4.0 and Wi-Fi, there's a stylus for taking notes, it supports audio and TTS, and it runs Android 4.4 and can install various Android apps.