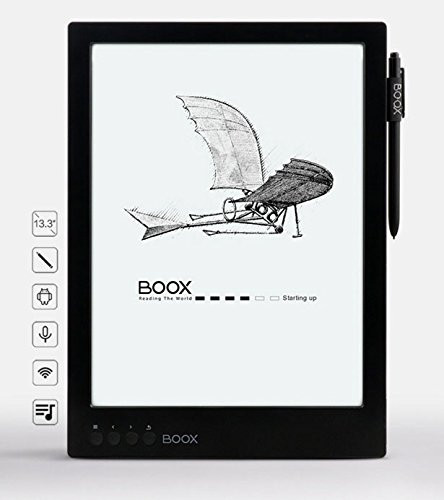 Onyx's authorized retailer from Germany, Booxtor, has been posting a few teaser details about the next generation 13.3-inch Onyx Boox Max over at MobileRead.
Apparently they're going to start making a higher resolution Carta version of 13.3-inch E Ink screens in the next couple of months.
This post makes it sound like two new Onyx Max devices are planned for this year, the Max Carta and Max 2.
The first will have the same hardware as the current model except it will have the higher resolution screen.
The Max 2 will bring some other hardware upgrades, none of which have been confirmed yet, but there's mention of an HDMI port, a faster iMX7 processor, and possibly a capacitive touchscreen for finger touch.
Plus according to this post, Onyx is expected to officially transition their ereaders from Android 4.0 to Android 4.4 over the next few weeks.
The exact specs of the new screen haven't been confirmed yet, but the assumption is the screen will have a resolution of 2200 x 1650. That's about 207 ppi, up from 150 ppi with the 1600 x 1200 resolution screen on the current Onyx Max. I can already hear people complaining that's not enough of an increase but if they go too high on a larger screen like that it's going to kill battery life and response time.
It's not expected to have a frontlight because it's too hard to get even illumination over a screen that large (not surprising considering they still haven't managed to perfect frontlights on 6-inch screens yet).
It will be interesting to see how the next generation Onyx Boox Max turns out. Booxtor also mentions they're working on a DesktopSync solution to make it so you can use the Onyx Boox Max as a secondary PC monitor, and the alpha version already works with Windows 7 and 10 if you have a 1st gen Max.