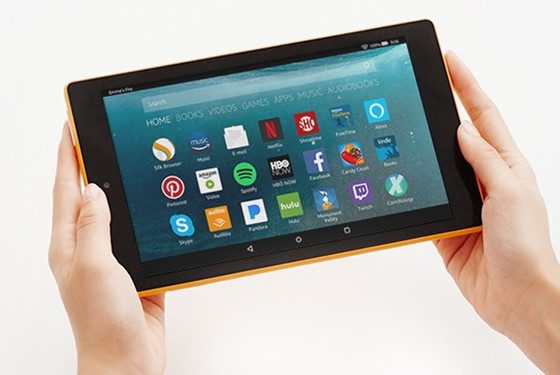 Review Date: July 2017 – Review unit purchased from Amazon
Overview
In June 2017 Amazon released two new updated tablets, a 7-inch Fire, I reviewed it a couple weeks ago, and the 8-inch Fire HD 8.
Both offer the same general features and the specs are somewhat similar, but the Fire HD 8 is the nicer tablet. It has a better screen, a faster processor, more RAM and more storage space, and the battery lasts about 50% longer.
Here's the $49 Fire vs Fire HD 8 comparison review for more details and a video.
This new Fire HD 8 is the 3rd generation HD 8, the 7th generation Fire tablet overall, but it's 95% the same as the previous HD 8, so there's no real reason to upgrade.
Amazon dropped the price of the new Fire HD 8 down to $79 for the 16GB model and $109 for the 32 GB version. Both cost $15 more to remove the lockscreen ads. There's also a Kids Edition starting at $129.
Fire HD 8 Review
Pros
Runs faster and smoother than $49 Fire tablet.
Long battery life.
Tons of storage space with the 256GB microSD card capacity.
Google Apps can easily be installed in about 5 minutes for added functionality and compatibility.
Cons
It's thicker and heavier than a typical 8-inch tablet.
Less customizable than regular Android tablets, no widgets, no custom home screens, no custom lockscreen, etc.
The speakers aren't very loud at all.
Verdict
At first I was rather put off by the weight of the Fire HD 8, but you get used to it after awhile. The nicer screen and added speed help make it quite a bit more enjoyable to use than the $49 Fire.
I still like using 10-inch tablets better but if my Lenovo Tab 2 10 died I could get along with using the Fire HD 8 as my main tablet for awhile. I can't say the same for the $49 Fire.
Overall the $79 Fire HD 8 is a solid tablet for the price. It's hard to complain about the amount of features it offers when similar tablets sell for 2 to 5 times as much. It's not great by any means, but it's good enough overall to be useful and functional.
Fire HD 8 Video Review
Hardware
The back has kind of a cheap plastic feel to it but the Fire HD 8 is a very solid-feeling tablet that seems like it could handle a drop without much of a problem.
The main downside is it's fairly heavy for a tablet its size. At 13 ounces it's about 20%-25% heavier than other 8-inch tablets like the iPad Mini and Galaxy Tabs.
This model is even 1 ounce heavier than the previous version (I misspoke in the video; I was thinking of the 7-inch Fire). It's also a half millimeter thicker, so it's pretty large overall.
As far as the screen, it's not great but it's not bad either. It's right in the middle. It's not as bright and vibrant as an iPad or Samsung screen, but it's good enough not to be a problem in most situations. It plays HD videos and they look good, but small text can be rough and pixelated at times.
The screen isn't as bright as other tablets I've owned, and it's not even as bright as the $49 Fire, but for indoors use it's more than adequate. I do like how the brightness goes dimmer than most tablets at the lowest level so it's more comfortable to read at night. It also has the Blue Shade feature to filter blue light, along with an auto brightness sensor, which I find very distracting but at least it can be turned off.
Software
The software on the Fire HD 8 is heavily integrated with Amazon's content and services, of course. Much more so than other tablets.
The software is based on Android 5.1.1 but with Amazon's custom Fire OS 5 skin it's kind of its own separate species.
You can get some crossover by installing the Google Play Store and other Google apps, but at the core of the software it's still a lot different than a typical Android device. You don't have much control over the homescreen, and there are no widgets and customization options are limited.
But if you have Amazon Prime or own a lot of Amazon's digital content, a device like the Fire HD 8 makes a lot of sense. All that stuff is easily accessible right from the homescreen, and it's easy to download free Prime content, like videos, music, ebooks, and audiobooks.
Plus Fire tablets are open to sideloading apps, ebooks, and other content like videos and MP3s so they're useful for non-Amazon content too, but if you don't want to use Amazon's services and content at all then getting a Fire tablet doesn't make much sense.
Fire HD 8 Tablet Specs
8-inch IPS Display
1280 x 800 (189 ppi) resolution
Quad-core 1.3 GHz processor
1.5 GB of RAM
16GB/32GB storage space
MicroSD card slot for cards up to 256GB
VGA front-facing camera; 2 MP rear-facing HD camera
Dual-band Wi-Fi b/g/n
Bluetooth
Dual speakers
Microphone
Accelerometer
Ambient light sensor
3.5 mm stereo jack
Battery life: up to 12 hours
Weight: 13 oz. (369 g)
Dimensions: 8.4" x 5" x 0.4" (214 x 128 x 9.7 mm)
Price: $79 at Amazon