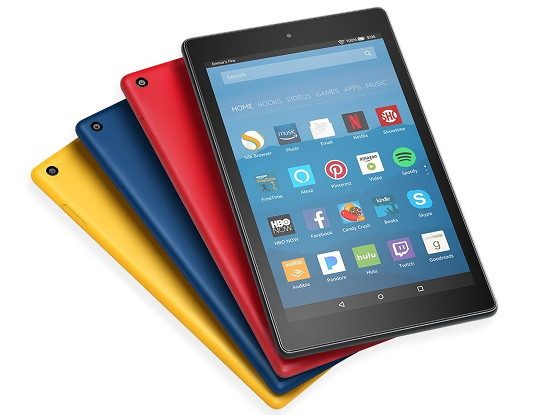 We're lucky if Amazon releases one new Kindle per year these days, so I decided to buy the new 2017 Fire tablets to try out since they're so cheap.
There are two new models for 2017, officially the 7th generation Fire tablets. Here's a quick comparison review describing how they differ; I'll post full reviews of them soon.
Both new Fire tablets are very similar. One has a 7-inch screen and the other has an 8-inch screen. Most of the specs are identical, and both run the same software, so there aren't many differences between them.
The 7-inch Fire tablet starts at $49 and the Fire HD 8 starts at $79.
Both come in four colors and each is available with or without screensaver advertisements (the ads take $15 off the price).
The $49 Fire comes with the option of 8GB or 16GB of internal storage space, and the Fire HD 8 comes with 16GB or 32GB. Both have a microSD card slot for cards up to 256GB.
For $50 more each model is available as a Kids Edition tablet that comes with a kid-proof case, 1 year of Amazon FreeTime Unlimited, and a 2-year warranty, as opposed to the 90-day warranty for the regular models.
Main Differences
Here's a table with a detailed list of Fire tablet hardware differences from Amazon's website for software developers, so I won't rehash that here. One error of note is it says the 7-inch Fire tablets have 10-point capacitive touchscreens, but it's wrong—they have 5.
Screen: The screen is the biggest difference between the two 2017 Fire tablets. The 7-inch model has a 1024 x 600 screen (16:9 ratio with 171 ppi) and the Fire HD 8 has a 1280 x 800 screen (16:10 ratio with 189 ppi). Both have IPS screens of similar quality, but the 7-inch model has a brighter screen, which kind of makes it look better. Also the Fire HD 8 supports HD video and the $49 Fire only supports SD video.
Battery: The Fire HD 8's battery is rated at up to 12 hours per charge and the Fire 7 is rated at up to 8 hours.
Size: The Fire HD 8 is about half an inch wider and 1 inch taller than the Fire 7. They weigh in at 13.0 ounces (369 grams) and 10.4 ounces (295 grams).
Processor: Amazon lists both as having 1.3GHz quad-core processors and that may lead one to assume they are the same, but the Fire HD 8's processor is a little better and so is its graphics chip.
RAM: The Fire HD 8 has 1.5GB of RAM and the Fire 7 has 1GB, so that helps the HD loads things like web pages, ebooks, and apps a bit faster in conjunction with the upgraded processor.
Sound: The Fire HD 8 has two speakers that are situated on the edge, whereas the Fire 7 has just one speaker on the back. Obviously the sound quality of two speakers is better and with them on the edge they are less prone to muffling.
Conclusion
The build quality and overall feature-set of the two 2017 Fire tablets is the same, and the software is virtually identical. It mostly just comes down to the size and a few subtle differences.
The Fire HD 8 is better suited for stuff like videos since it adds support for HD, and the dual speakers and extra battery life and RAM are nice advantages too, but the larger screen and battery come at the price of adding quite a bit more weight. That gives the Fire 7 tablet the advantage of being lighter and more portable, and it's hard to argue with something that only costs $49.
I only plan to keep one to use mostly as a music and video player, but I haven't decided which one to keep just yet, but I'm leaning toward the 7-inch Fire at this point since the screen and build quality differences are minimal, unlike the earlier 2015 models. I'll post in-depth reviews of each tablet separately next week after using them more, so check back soon for updates.
Update: After further testing, the Fire 7 is noticeably more sluggish than the Fire HD 8. It's not a huge difference but it does require more patience for things to load on the cheaper model. Depending on how you're using it, the Fire 7 can get pretty frustrating at times waiting for things to respond. If you're the impatient sort you probably want to steer clear of the Fire 7.
$49 Fire vs Fire HD 8 Video Comparison