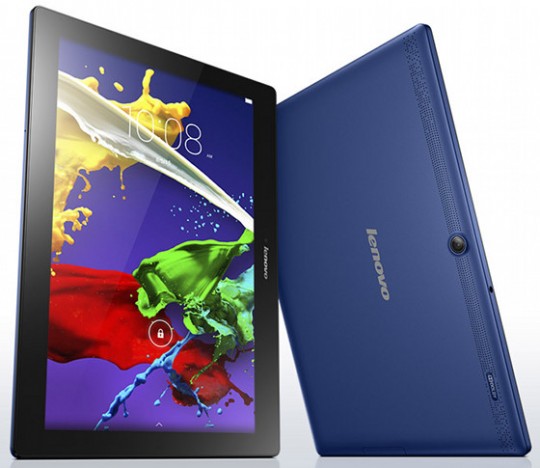 Review Date: September 2015 – Review unit purchased from Amazon
Overview
The Lenovo Tab 2 10 was released in May 2015. It's a 10-inch Android tablet that runs Android 5.0 Lollipop. It's among Lenovo's A series tablets that also includes 7 and 8-inch models.
The Tab 2 10 is the best of the bunch. It has the unique combination of a nice high resolution 10-inch screen and a low sub-$200 price.
I've been saying that it's a better tablet than Amazon's new Fire HD 10 because it has a better screen, double the RAM, longer battery life, and lower price.
This is the second time I've written a review for the Lenovo Tab 2 10 tablet after accidentally deleting the first version, so I'm going to keep this review rather short. Feel free to ask any questions in the comment section.
Lenovo Tab 2 10 Review
Pros
The 10-inch 1920 x 1200 resolution (224 ppi) screen looks really good.
The Android 5.0 operating system is the smoothest running Android OS yet, and it offers a number of customizable features and accessibility settings.
Good specs for the price—the tablet runs very well and the battery life is excellent, just as good as an iPad.
At $199, it's a great value for the price. Most 10-inch tablets under $200 have low resolution screens, cheap hardware, and batteries that need charged every 4 hours.
Cons
Overall the build quality feels pretty solid but the plastic casing on the back of the tablet makes creaking noises when handled.
The camera's picture quality isn't great; pictures always seem a bit fuzzy and a little out of focus.
The screen is not sunglasses friendly in either orientation.
Verdict
The Lenovo Tab 2 10 has been my main tablet for the past 2 months. I liked it enough to get rid of my other tablets. It's not as high quality as an iPad but it's a really good tablet for the price.
The large high-res screen makes it stand out from similar tablets on the market, and the quad-core processor is fast enough that you'd never suspect the Tab 2 10 is a budget tablet. It sells for the same price as 7 and 8-inch tablets so if you're like me and favor bigger screens it's a really good option.
Lenovo Tab 2 10 Video Review
Hardware
The hardware is solid for the price (see specs below). There are no major deficiencies and overall performance is very good.
The screen is a strong point. The colors are bright and the 224 ppi is good for text clarity and sharper details. Most inexpensive 10-inch tablets, including Amazon's new Fire HD 10, have low resolution screens (149 ppi), and that makes a big difference. 224 ppi isn't as high as some other tablets that go over 300, but it's a good compromise for performance and battery life (more pixels use more power and CPU).
Things like comics and magazines look great on a screen this size. PDFs also display well, although the 16:10 ratio does scale them a bit smaller in portrait mode than a 4:3 screen like an iPad.
Battery life is excellent, as good as an iPad. Android tablets often don't stack up in terms of battery life, but the Tab 2 10 lives up to its advertised 10 hour battery life (it helps to have Wi-Fi set to turn off when in sleep mode).
One thing I'm not thrilled with is the rear camera's picture quality. No matter what the pictures always seem to come out a little fuzzy and out of focus. The 1st gen iPad Air that I used to have definitely took clearer pictures even though it only had a 5MP camera.
Software
Initially the Lenovo Tab 2 10 shipped with Android 4.4 KitKat, but as I turned it on the first time and checked there was an update to Android 5.0.1 Lollipop ready to install.
I really like Android 5.0 because of the features that it offers, especially how it's a lot more open and customizable than iOS. Android usually ends up annoying me with random issues, but so far Android 5.0 has been smooth sailing.
There were some problems with the Dobly Atmos app for awhile, but the last update seems to have fixed those issues. The volume level used to get too low, even at max, but now the sound level is consistent. The Dobly Atmos app really does work wonders to the sound quality, but you need good quality headphones to appreciate it (and they have to be wired; Bluetooth headphones don't benefit from the Atmos app for some reason).
One nice thing about Lenovo is they put hardly any bloatware at all on the Tab 2 10. It mostly just comes with Google apps preloaded and a few utility apps. Lenovo uses their own homescreen and a custom skin, but for the most part it looks and feels like stock Android.
Lenovo Tab 2 A10-70 Specs
10-inch Full HD IPS Display.
1920 x 1200 resolution.
1.7 GHz 64-bit quad-core processor MT8165.
Android 5.0.1 Lollipop OS.
16GB internal storage space.
RAM: 2GB LPDDR3.
MicroSD card slot.
Bluetooth 4.0.
GPS.
Dual Band WiFi (2.4GHz 802.11 b/g/n + 5GHz 802.11 a).
Cameras: Rear 8MP auto-focus; Front 5MP fixed-focus.
Battery: up to 10 hours.
Weight: 1.15lbs – 520 grams.
Dimensions: 9.72″ x 0.35″ x 6.73″ – 247 x 171 8.9mm.
Price: $199 at Amazon.