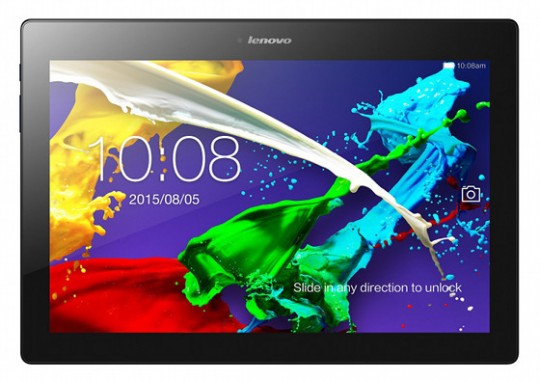 Lenovo added some new Android tablets to their "A" series this past month with a "Tab 2" designation. There are two 7-inch models and a 10-inch model. An 8-inch model is coming soon as well.
The tablets seem to be flying under the radar lately as they haven't been getting much press, but they look like good value picks on paper, especially the 8-inch and 10-inch models with high resolution 1920 x 1200 screens.
The Tab 2 tablets all have quad-core processors, microSD card slots, Bluetooth, and run Android 4.4 KitKat, with an update to Android 5.0 expected to come in July.
The 7-inch models, the A7-10 and A7-30, have lower resolution 1024 x 600 screens, but for under $100 it's hard to argue too much considering the other specs.
The 7-inch Tab 2 models appear very similar. The one difference I see is the cheaper A7-10 model has a front 0.3MP camera and the A7-30 has a 0.3MP front camera and 2MP rear camera. Both have 8GB or 16GB of internal storage, 1GB of RAM, 8 hour battery life, and a 1.30GHz MTK 8127 quad-core ARM Cortex-A7 processor.
The 8GB Lenovo Tab 2 A7-30 is $99 on Amazon. Lenovo has the 16GB version on sale for $109 and the Tab 2 A7-10 for $89.
The 8-inch Tab 2 A8 isn't available anywhere yet, but it's expected to be released soon, and it should be pretty cheap considering the 10-inch model is $199 and the specs are similar between them. You can signup to be notified when it becomes available on the product page for the Tab 2 A8 on Lenovo's website.
The 10-inch Lenovo Tab 2 A10 looks like a good large-screen budget tablet for $199 at Amazon and Lenovo. Most tablets in that price range have low resolution screens. The Tab 2 A10 with a 1920 x 1200 screen could make for a good reading tablet with 224 ppi.
The specs for the Tab 2 A10 are pretty solid too. It has a quad-core 1.7 GHz MT8165 processor, 16GB of storage space, 2GB of RAM, a microSD card slot, 10 hour battery life, 5MP front facing camera, 8MP rear camera, and it has a multi-speaker sound bar with Dolby Atmos 3D Cinema Sound. There's also an optional Bluetooth keyboard case that doubles as a stand and cover, but it's not available yet.
I was thinking about getting one of these tablets to review, but I'll probably hold out for the 8-inch model. If you happen to get one of these tablets let us know what you think in the comments section.