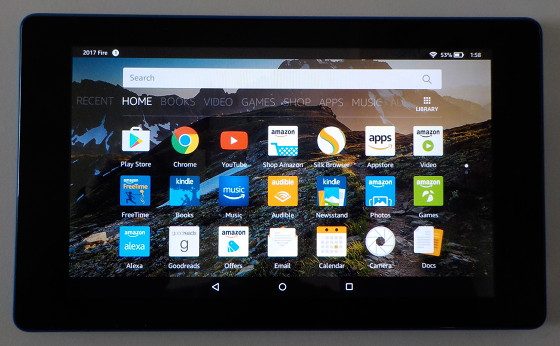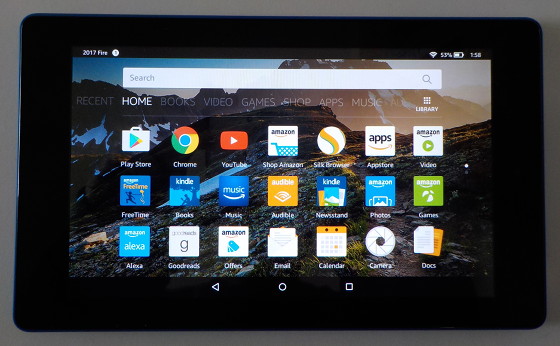 Amazon released two new Fire tablets this week, the Fire HD 8 and Fire 7, and it turns out it's the same simple process to add the Google Play Store and Google apps to them as previous Fire tablets.
Both new tablets are considered 7th generation models, but the software is the same as the 5th and 6th gen Fire tablets, so installing Google Play works the same exact way.
It literally takes about 5 minutes to complete from start to finish, and it can be accomplished directly from a stock Fire tablet without having to install anything else first.
You don't need to use a computer or root the tablet first; all you have to do is install 4 Google apps.
Anyone can do it, and if you decide later that you don't want Google Play on your tablet you can do a factory reset to wipe everything clean and make the tablet like it was when you first got it.
This is the same exact process as earlier models and will work on any Fire tablet running Fire OS 5.x and up. To check your tablet's OS version go to Settings > Device Options > System Updates. The new Fire tablets are running 5.4.0.0 and are confirmed to work with the below method.
How to Install Google Play on Fire Tablets
Step #1: Prepare Your Fire Tablet
Go to Settings > Security > Enable Apps from Unknown Sources (this will prompt a warning message—that's normal).
Step #2: Download Google Apps
Now it's time to download 4 separate apk app files. The easiest way is to use the Fire tablet's silk web browser. Just make sure to install them in the order they are listed below.
It's easiest to install the apps one at a time as they download. Just tap the download notification to prompt install. If you miss the notification, swipe left from the browser's screen to open the menu and select downloads.
These apps must be installed in the following order:
Update: If you're having problems with the install button being grayed out and rebooting doesn't fix the problem, try this fix: When you encounter the grayed out install button, try pressing the power button to put the device to sleep, then power it back on and unlock the screen, and now the install button should work (tip).
Step #3: Restart and Sign-in
After installing the Google apps above you need to shutdown and restart your Fire tablet before using the Play Store app.
After restarting, simply launch the Google Play app and sign-in to your Google account. That's it. Enjoy!
Update – Step #4: Once you have the Google Play store up and running, it's a good idea to go into settings and turn off auto updates for apps because they can mess up the pre-installed Amazon apps and cause problems. See here for more about how to fix problems with Kindle ebooks disappearing.
via: XDA Forums