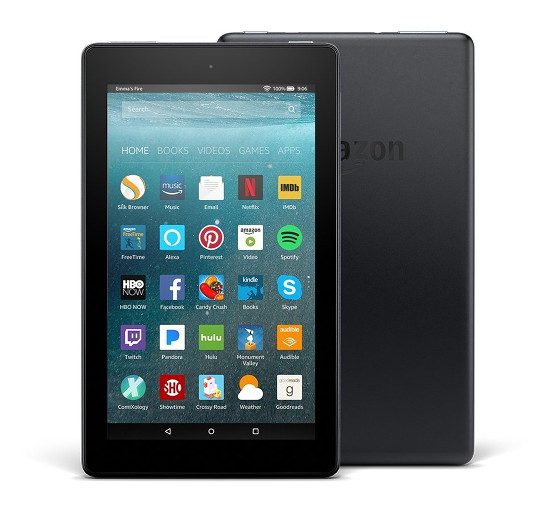 Review Date: June 2017 – Review unit purchased from Amazon
Overview
Amazon released an updated $49 Fire tablet in June 2017 to replace the original $49 Fire tablet that was released back in 2015.
I already posted a comparison review between the new Fire and old Fire but not a lot has changed.
The new model has a nicer display and battery life is 1 hour longer, but most of the hardware remains the same and the software is virtually identical.
They changed the design slightly by making the new Fire a bit thinner and lighter, and the edges are more rounded so it's more comfortable to hold.
The new 8GB Fire tablet still sells for $49 and the 16GB version is $69—both are $15 more without ads. They're available in black, blue, red, and yellow.
I'm just going to post a short review for this tablet, but feel free to ask questions in the comments section. I plan on posting a review specifically about the reading and text-to-speech features too since that's more this website's style.
$49 Fire Tablet Review
Pros
Super cheap.
Storage space expandable up to 256 GB with microSD card.
Improved screen and good battery life.
Build quality feels solid, and the smaller size makes it light and easily portable.
Cons
Sluggish to load and respond at times.
The screen quality is better but the low resolution is still a con.
It's basically one big advertisement for Amazon; almost every section is designed to sell you more stuff.
Speaker sounds awful and is way too quiet.
Verdict
The $49 Fire is one of the cheapest tablets on the market and it offers a wide range of features for the price so it's hard to argue about the overall value, especially since the Google Play Store can be easily installed in about 5 minutes.
The $49 Fire makes for a good secondary tablet, or a tablet for kids, or something for on-the-go. It's great for downloading Amazon content, particularly all the free content available for Prime members. You can load up a memory card full of Prime videos and Prime music and it doesn't cost a dime.
But if you don't want to use any of Amazon's services then it doesn't make sense to buy a Fire tablet. They are designed for people that use Amazon for videos, music, audiobooks and ebooks, and just shopping in general. It would be a pretty crummy tablet for someone that doesn't use Amazon at all.
Sure, the Fire tablet has some shortcomings, like the pitiful speaker and low-quality cameras, and it's kind of slow by today's standards, but for $49 it hard to complain much because it does enough things well enough to be useful, and the tight integration with Amazon's services has its advantages.
Personally I like the new Fire HD 8 a little better because it's faster and the larger screen looks a bit nicer, but the added weight and bigger size make it less comfortable to hold and less portable, so that's something to consider as well. See here for the $49 Fire vs Fire HD 8 comparison review.
$49 Fire Tablet Specs
7-inch IPS Display
1024 x 600 (171 ppi) resolution
Quad-core 1.3 GHz processor
1 GB of RAM
8GB/16GB storage space
MicroSD card slot for cards up to 256GB
VGA front-facing camera; 2 MP rear-facing HD camera
Dual-band Wi-Fi b/g/n
Bluetooth
Mono speaker
Microphone
Accelerometer
3.5 mm stereo jack
Battery life: up to 8 hours
Weight: 10.4 oz. (295 g)
Dimensions: 7.6" x 4.5" x 0.4" (192 x 115 x 9.6 mm)
Price: $49 at Amazon
$49 Fire Tablet Video Review