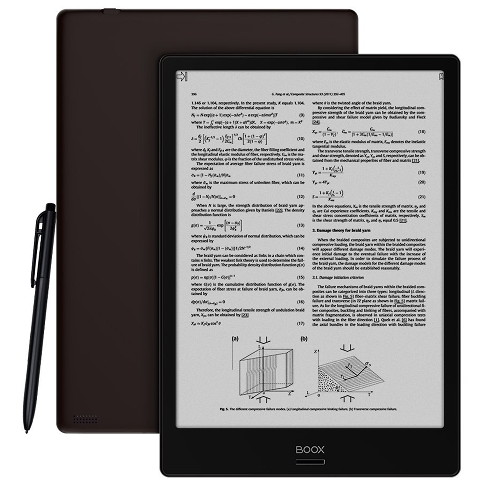 Review Date: May 2018 – Review unit purchased from Amazon
Overview
The Onyx Boox Note is the first 10.3-inch ebook reader and digital notepad from Onyx. Along with the larger 13.3-inch Boox Max2 model, it adds a number of hardware and software upgrades over previous Onyx devices.
It has a quad-core 1.6GHz processor with 2GB of RAM and 32GB of storage space. It features a dual-touch touchscreen with support for finger touch and stylus touch using an included Wacom pen for writing on the screen.
The 10.3-inch display uses a flexible substrate instead of glass so it's lighter and more durable than a typical E Ink screen.
It also has Wi-Fi and Bluetooth, plus speakers and a mic for recording, and a USB-C port for charging and transferring files.
The Onyx Boox Note's software is based on Android 6.0 and it comes with Google Play to install apps. The built-in Neo Reader app supports a wide range of ebook formats, and it's especially good with PDFs.
Onyx Boox Note Review
Pros
Hardware and software upgrades provide a significant boost in overall performance over previous Onyx ereaders.
Lightweight and comfortable to hold, much lighter than a 10-inch tablet.
Advanced software and ability to install apps makes it more versatile than other E Ink devices.
The large screen looks great, text is crisp and dark and pleasant to read for long periods.
Cons
Expensive.
No memory card slot, no page buttons, no frontlight.
Average build quality considering the high price: the inner bezel has a rough edge, the frame has a bit of flex on the right side of the screen, the screen is susceptible to scratches, and the speakers are very poor quality.
Inconsistent library management system, random software bugs.
Verdict
At this point I like the Onyx Boox Note better than any other Android ereader I've ever reviewed. The large screen, the lightweight design, the overall performance, and the fact that the Kindle app and other Android apps work better than usual on these types of devices is a big plus. I review a lot of different ereaders so I have to get rid of most of them but the Note is definitely a keeper.
I'm surprised by how much smoother the new hardware and new software run compared to the Onyx Boox N96ML that I reviewed last fall, especially when using 3rd party apps. Performance still isn't as fast and responsive as a tablet or phone, of course, but for E Ink it is impressive.
There are some drawbacks with the overall design and the lack of a frontlight is a turnoff for some, but the main problem with the Note is the simple fact that it's so expensive compared to tablets and other electronics, and you'd expect it to have nicer overall build quality at that price. It's among the first devices to use a flexible 10.3-inch E Ink screen so it's bound to be pricey at first. Hopefully the prices of these large ereaders continues to go down because they're a pleasure to read on. The screen looks so good I don't even mind that it doesn't have a frontlight (this coming from someone who once suggested that all non-frontlit ereaders should be phased out).
Onyx Boox Note Video Review
The Design
The Onyx Boox Note has more of a minimalistic design than some of Onyx's other devices. It doesn't have a memory card slot, page buttons, or a flush front screen, and it lacks a loop to hold the stylus.
It has one button below the screen that functions as a back button, and if you hold it down it will take you to the home screen.
I'm a little disappointed there aren't any page buttons but it does support Bluetooth page turners so I'm going to give that a try.
One of the most impressive things about the Note is its weight. At 334 grams it's surprisingly light for its size and it's very comfortable to hold, even one-handed. It may be hard to believe but it's actually lighter than a Kindle Paperwhite in a typical leather cover.
It's a lot more comfortable to hold than a typical 10-inch tablet. By comparison, the new 2018 9.7-inch iPad weighs 467 grams and the Fire HD 10 weighs 503 grams.
It's also much lighter than the 9.7-inch Onyx Boox N96 that I previously reviewed, which weighs 489 grams (and a hefty 717 grams in the cover). The weight difference between a glass screen and a flexible E Ink screen is significant.
The Screen
What makes the 10.3-inch screen on the Note unique is the fact that it's plastic-based instead of glass-based like on a Kindle. You can actually see the display flex slightly when pressing in the center of the screen. In addition to being lighter, flexible screens are more durable as well; the thin glass backplane is the most fragile part of regular E Ink screens.
The resolution of the Note's screen is 1872 x 1404, so that's 227 ppi. Text is nice and clear and easy to read, and the software offers a contrast adjustment feature to make the text appear darker and bolder.
While there isn't a frontlight on the Note, the large E Ink screen looks great under most lighting conditions, but it does require using a lamp or reading light in low-light like regular paper.
Compared to the Remarkable, the background color is lighter and the text is considerably darker on the Note. However, the Note's top layer has a touch of glossiness to it; the Remarkable has more of a matte layer on top, which helps give it a paper-like feel when writing.
One thing I don't like is the lip of the bezel that frames the screen has a slightly rough, unfinished feel to it. It's not a big deal but it does catch your finger more than usual. They should've beveled the edge.
Also, there are reports of the screen showing marks and scratches from using the stylus, but that seems to only happen when pressing down unusually hard because my Note doesn't have any scratches from the stylus and I've pressed down pretty hard testing the pressure sensitivity. Nonetheless, it's something to be aware of and you should use a screen protector if you plan to do a lot of writing.
Touchscreens
The Onyx Boox Note has two touchscreens, one for finger touch and one for stylus touch.
The stylus uses Wacom technology and for the most part it's very accurate and responsive. The delay is minimal when writing on the screen, and the pen supposedly supports 4096 levels of pressure sensitivity. I don't know where they come up with that number but it seems extreme. It does indeed respond to how hard you're pressing down but there's not a huge variance in line thickness, and there's no shading like on the Remarkable.
Speaking of the Remarkable, the writing experience feels more paper-like on it, the same with Sony's Digital Paper devices. The Onyx has more of a slick layer on the top of the screen, and the stylus is hard plastic so it doesn't feel like writing on paper at all, but the stylus does work well and it has an eraser on the end to easily remove strokes. Interestingly, the styluses on the Note and Remarkable are interchangeable.
Update: Shortly after posting this review, I installed the screen protector that Onyx offers and it adds a bit of a matte texture to the screen that feels nice and makes writing feel a little more paper-like.
The only problem I have with the stylus is it sometimes doesn't react when tapping a menu icon in the very corner of the screen, but using a finger works fine in such cases.
The capacitive touchscreen works well and it supports pinch-zooming. Touch responsiveness is good.
Overall both touchscreens are more reliable than previous Onyx devices that I've reviewed, especially the N96 that suffers from ghost touches and unpredictable writing with the stylus.
Other Details
The Note is supposed to have dual speakers but the left one doesn't work at all on mine, and the right one is very quiet and sounds like garbage. Update: The left speaker started working after a software update but they still sound terrible. Luckily the Note supports Bluetooth speakers and headphones so you can still use text-to-speech or listen to music that way.
It also supports other Bluetooth devices like keyboards and remote page turners.
As for battery life, it seems like it's closer to a tablet than a typical ebook reader, but it's hard to judge after only a couple weeks. The battery definitely drains faster when you're using Wi-Fi, downloading files and apps, and using the device like a tablet, but battery drain slows down noticeably when turning everything off and just reading.
Note-taking App Review
Software
The Onyx Boox Note runs Android 6.0, which is a nice step up from Onyx's earlier ereaders with Android 4.0. Overall the base software still looks mostly the same with Onyx's custom homescreen and app drawer, but there are a few changes and 3rd party app support is much greater with Android 6.0. Plus it does come with Google Play to install apps.
One of the biggest changes that I noticed is the fact that the screen refreshes better when using 3rd party reading apps than with other Android ereaders. Usually the text starts to degrade and fade after a few page-turns but the Note doesn't suffer from that problem.
The Kindle app works surprisingly well and so does the Play Books app. I tried Libby for library books but it won't get past the library card number stage, so I tried Overdrive and it works for the most part but page-turns are kind of jerky the way it refreshes the screen.
The pre-loaded apps include: calculator, calendar, clock, dictionary, email, music, notes, reading stats, search, sound recorder, and there's a web browser, which actually works pretty well considering E Ink is usually terrible for web browsing.
One of the main limitations with the Note's stylus is the fact that it pretty much only works with Onyx's built-in app when it comes to the handwriting features. 3rd-party apps like OneNote and Evernote have too much lag when writing to be usable since those apps weren't designed to be used with E Ink screens.
One thing I don't like about Onyx's ereaders is their library management system. It will automatically pick up any supported file on the device and clog up the library with a bunch of random, meaningless files. You can set it to only scan the Books folder but I find that it's rather inconsistent. Sometimes it won't show books that are in the folder. I also had a problem with it not showing files on my computer that show up in the onboard file manager, so I had to transfer the files wirelessly instead.
Reading Features
The built-in Neo Reader app supports several formats and it offers a number of features, especially for PDFs (see the separate Onyx Boox Note PDF review for a closer look). You can sideload your own fonts to use and export all notes and highlights as well.
There are various zooming and cropping modes, and settings to navigate PDFs with multiple columns, there's a manual crop option, fit to page and fit to width settings, landscape mode. It has an automatic page turning feature, and there's reflow for PDFs.
Neo Reader 2 supports having up to 4 documents open at once, with tabs at the top to switch between them. You can control contrast to darken the text, add notes, highlights, lookup words in the dictionary and use text-to-speech. They recently added a new sidenote feature that lets you have a notes page and document open at the same time.
You can enter page numbers to jump to, view 4 or 9 pages at once, use hyperlinks and footnotes, search, there's table of contents support, and it keeps track of previous pages so you can go forward and back.
You can add handwritten notes to PDFs but not ePubs. You also have to enter a special notes mode to write on the screen, and you can't scroll, add highlights, or access the dictionary without manually exiting notes mode, so it's a bit different than other note-taking devices like the Sony DPT-RP1, for instance.
More Reviews
Onyx Boox Note PDF Review
Kindle App Review
How to Add Custom Fonts
Screen Protectors to Avoid Screen Scratches
Onyx Boox Note Specs
10.3-inch E Ink Mobius Carta flexible display
1872 x 1404 resolution (227 ppi)
Wacom touchscreen (stylus touch)
Capacitive touchscreen (finger touch)
1.6GHz quad-core CPU
32GB internal storage
2GB RAM
Wi-Fi
Bluetooth 4.1
Speaker, microphone
USB-C
Supported files: PDF, TXT, HTML, EPUB, CHM, PDB, MOBI, FB2, DJVU, plus others
Operating system: Android 6.0 with Google Play
Battery: 4100 mAh
Weight: 334 grams
Dimensions: 249.5 mm x 177.8 mm x 6.8 mm
Price: $549 USD at Amazon