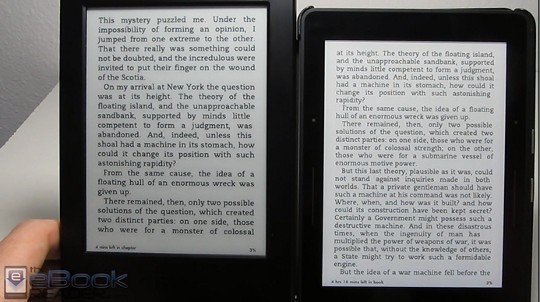 With the release of the new Kobo Touch 2.0, it's hard not to ask the obvious question: Why are ebook readers without frontlights still being made?
A lower entry-level price is the only answer that makes any sense. But you have to wonder if that's really working out for the better in the long run.
Non-frontlit ebook readers offer a substantially inferior reading experience than frontlit ebook readers.
Text is harder to read in anything but optimal lighting conditions, otherwise you need a reading light or lamp. Non-frontlit ereaders also have lower resolution screens and less contrast.
The lower-end inexpensive models are most likely to attract new users rather than people who've owned more than one dedicated ereader.
So by going with a cheaper non-frontlit ereader, new users aren't getting the best ereading experience. This could make them more likely to abandon ereading altogether or not like it as much as they could with a better model.
It's the same story with Amazon's $79 Kindle Touch. I've always said the Kindle Paperwhite is a much better overall value, especially when the Paperwhite 2 used to regularly go on sale for $99.
It's hard to believe that Amazon and potential Kindle customers wouldn't be better served to just have a $99 frontlit ebook reader as the entry-level model instead of offering an inferior model with an outdated screen from 2011.
Personally, I would never use an ebook reader without a frontlight over one with a frontlight. It just doesn't make sense. Not on any level. Even when you don't necessarily need a light to read, a frontlight helps make the background appear lighter and more paperlike, and helps make the text stand out more. If you don't want the light on, just turn it off—there is no downside.
So at this point in time, why are ebook readers without frontlights still being made?