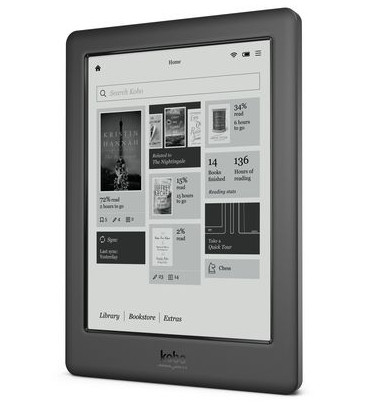 This past weekend the Kobo Touch 2.0 turned up for sale on the Chapters.Indigo website before any kind of announcement was made about its existence. Then the listing was taken down yesterday.
This kind of thing happens all the time when Kobo goes to release a new model. Some retailer puts it up on their website before the device is officially released. It happens time and time again.
So today Kobo made the Kobo Touch 2.0 official in a rather odd blog post that unsubtly tries to sell you on ten separate ebooks before giving any actual specifics about the product that's being released.
They might as well bury the specs at the bottom of the page because there aren't any surprises.
The Kobo Touch 2.0 is not much different than the original Kobo Touch that was released back in 2011. The specs are a bit better on the new model, minus a memory card slot, the overall design is more streamlined, and the dedicated home button has been removed, but the main thing, the screen, is the exact same.
The Kobo Touch 2.0 has a 6-inch E Ink Pearl display with a resolution of 800 x 600. It uses an infrared touchscreen, with two-point touch.
Basically it's Kobo's answer to the entry-level Kindle Touch, which has the exact same screen and similar overall features and price.
The new Kobo Touch gets released on September 9th in the US and Canada. It retails for $89 CAD (when I ordered from Chapters it came out to about $81 USD with shipping to the US). Kobo plans to start rolling the device out internationally as well, starting in late September.
It's still not showing up on Kobo's website; I guess they'll list it closer to September 9th.
Kobo Touch 2.0 Specs
6-inch E Ink Pearl display.
800 x 600 pixel resolution (167 ppi).
Neonode IR touch, 2 finger touch support.
1 GHz Freescale i.MX6 Solo Lite Processor.
Wi-Fi 802.11 b/g/n.
Micro USB port.
Supported formats: eBooks: EPUB, EPUB3, PDF; Images: JPEG, GIF, PNG, BMP and TIFF; Text: TXT, HTML, XHTML, and RTF; Comic Books: CBZ and CBR.
Dimensions: 115 x 157 x 9.2 mm.
Weight: 185 grams.