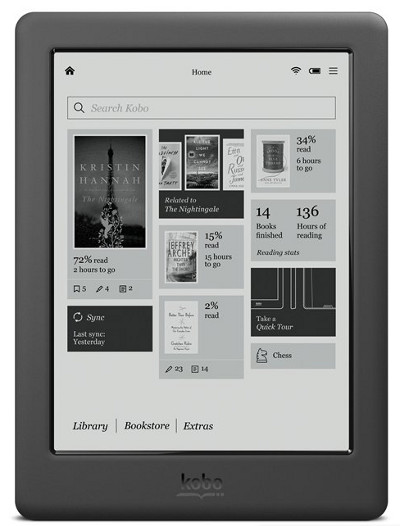 It looks like Kobo has quietly started rolling out their latest ebook reader, the Kobo Touch 2.0.
So far there's been no official announcement from Kobo about the new device, and it still isn't listed on Kobo's website at all, but the Kobo Touch 2.0 has just turned up for sale at Chapters.Indigo, one of Kobo's Canadian retailers.
The listing says that the device is currently available in retail stores and it's also available for purchase online.
The retail price for the Kobo Touch 2.0 is set at $89.95. That's in Canadian dollars, so if you're ordering from the US the price comes out to less than $69, and with shipping charges the total comes out to about $81 with current currency conversion rates.
Unfortunately the product page at Indigo reveals practically no useful information whatsoever about the Kobo Touch 2.0. Basically all we know for sure at this point is that it's a 6-inch ebook reader with a E Ink Pearl display.
Based on earlier evidence of the cover for the Glo HD, we know that the Kobo Touch 2.0 shares the same dimensions as the Glo HD because the case fits both devices.
It's also safe to assume that it doesn't have a frontlight or a 300 ppi screen, since that's what separates the Glo HD. It's also unlikely to have a memory card slot, since the Glo HD doesn't have one and it certainly doesn't make sense to add one to the lower end model.
We know there will be nothing new or different with the software because all Kobo ereaders are almost identical in that regard. It's basically an entry-level version of the Glo HD. The price is competitive with the entry-level Kindle Touch, but the Kobo Touch definitely appears to have an edge in the design department. It looks like it has the same exact outer casing as the Glo HD.
I placed an order so check back in a few weeks for a full review. By the way, if you use PayPal you have to enter your address information before selecting to checkout with PayPal because the system is messed up and doesn't accept your PayPal address for some reason (I experienced the same exact problem when ordering the Glo HD a few months ago and Indigo still hasn't fixed the problem).
via: MobileRead