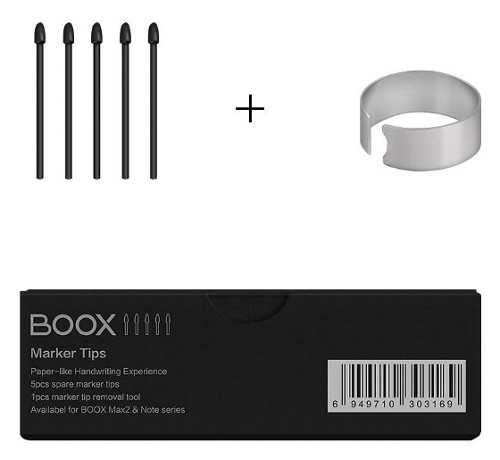 Onyx has started selling some new stylus tips for the Onyx Boox Note series and the Max2.
The tips supposedly offer a more paper-like writing experience than the original hard plastic stylus tips, and Onyx claims they won't scratch the screen even when not using a screen protector.
The new Boox stylus tips are available at Amazon for $9.99 with free shipping.
The kit includes 5 replacement nibs and a tool to remove the tips.
They don't give many details in the description (and you'll find an error in the picture if you look hard enough) but Onyx posted this on their Facebook page:
"Replaceable stylus tips are provided for Note and Max2 series, which are softer than original and wouldn't scratch Boox screen even without screen protector."
I'm not sure if they'll work with the Note S since it uses a different type of touchscreen. You'd think it would be included in the "Note series" but it's not specified.
I ordered some of these new tips to try out with the original Onyx Note so stay tuned for a review.