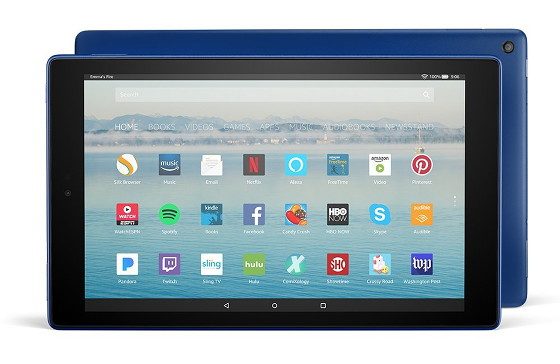 Review Date: October 2017 – Review unit purchased from Amazon
Overview
Amazon released the Fire HD 10 in October 2017. It's the 2nd generation HD 10, and it features a higher resolution full HD 1080p display, yet it's much cheaper than the previous version, a full $110 less for the model with the same storage capacity.
The new Fire HD 10 also has a faster processor and twice as much RAM so it's zippier (Amazon claims it's 30% faster), and battery life has increased by 2 hours, up to 10 total.
Not everything has been upgraded, however. The new Fire HD 10 has a more basic design, it's 68 grams heavier, 2.1mm thicker, and it lacks the aluminum back option. The cameras have also been downgraded to just a 2MP rear and VGA front.
The Fire HD 10 is basically a larger version of the Fire HD 8 and Fire 7 that Amazon released back in June. The HD 10 has a much nicer display than either of those, and it's faster and has the option for more storage space, but the overall features and design are 95% the same. The HD 10 adds hands-free Alexa support, which is quite handy (pardon the pun), and it comes with a full 1-year warranty instead of the 90-day warranty on the other models.
Fire HD 10 Review
Pros
The high resolution screen looks great, significantly better than the Fire HD 8 and Fire 7.
Hands-free Alexa support.
The upgraded processor and added RAM make it noticeably faster than other Fire tablets.
Google Apps can easily be installed in about 5 minutes for added functionality and compatibility.
Cons
Basic design, not as attractive or elegant as most other 10″ tablets.
Like all Fire tablets, the operating system allows for very little customization, there's no support for widgets, no custom homescreens, no modifiable lockscreen, and Amazon's appstore is severely limited.
Very low quality cameras.
MicroSD card slot deeper than usual; I have to use a screwdriver to insert and remove cards.
Verdict
I've been looking to get a new 10-inch tablet for awhile now, so I thought I'd give the new Fire HD 10 a shot at replacing the Lenovo Tab 2 10 that I've been using for the past 2.5 years, but now its screen is cracked, the rear camera no longer works, and it frequently freezes up lately.
I've been using the Fire HD 10 a lot since I got it and I've been pleasantly surprised by the performance. It's noticeably faster than the smaller Fire tablets, faster than the Lenovo as well, and the high-res screen is definitely its strong point.
The main drawback is the low quality cameras and I don't care for the cheap design much. It makes it feel kind of big and blocky, but for $149 I'm willing to accept that since the screen looks so good, it has plenty of storage space, it's surprisingly responsive, and the hands-free Alexa support is a nice bonus.
Personally I wouldn't mind paying $50 more for a tablet with a nicer design, better cameras and a less confined OS, but most 10-inch tablets in that price range have lower resolution screens and that's a deal-breaker for me. I'd rather have a nice screen and the Fire HD 10 delivers on that, and the overall performance is better than expected. At this point the HD 10 has officially replaced my Lenovo tablet, so I like it enough to recommend it, and it's a good value for the price, especially once it starts going on sale.
Fire HD 10 Video Review
Hardware
The overall design of the Fire HD 10 is basically the exact same as the Fire HD 8, just bigger. It has the same plastic back with rounded edges, the same cameras, and the speakers and ports are all located in the same places.
The build quality feels pretty solid. I already knocked it off the table once and was fearing another cracked screen like on my Lenovo tablet (that's how its screen got cracked), but it survived the fall without any signs of abuse.
The speakers are a lot louder than the speakers on the HD 8 and Fire 7, but like most tablets the sound quality isn't very good. It's okay for things like audiobooks and such, but I'd much rather use Bluetooth speakers or headphones for music and videos.
One nice thing about the HD 10 is it comes with plenty of storage space. The base model has 32GB and there's the option for 64GB. Plus there's a microSD card slot that supports cards up to 256GB. As mentioned above, I have problems with the slot being too deep. I have to use something like a screwdriver to get a card in and out.
In my opinion, the best thing about the HD 10 and the main thing that makes it worth getting is the high resolution 1920 x 1200 screen. It's very crisp and clear and there's a good range of brightness settings. Comics look great, text is sharp and easy to read, colors are vibrant. On minor issue, the screen on my HD 10 looks slightly brighter on one side than the other, but it's hard to notice unless the screen is a solid color. I actually notice this often with tablets but no one ever seems to complain about it, unlike uneven frontlights on ereaders.
Another positive with the HD's hardware is the quad-core 1.8GHz processor and 2GB of RAM. That helps make is zipper and more responsive than other Fire tablets. I simply cannot stand using the Fire 7 anymore; it's as slow as a slug.
Battery life is rated at 10 hours, and I'd say that's pretty accurate. It could probably even go quite a bit longer if you managed it right.
Software
Like all Fire tablets, the HD 10 runs Amazon's heavily customized version of Android, called Fire OS. It's based on Android 5.1 but it lacks a lot of typical Android features, like being able to setup custom homescreens, using widgets, accessing Google Play, etc.
Luckily the Play Store can be installed in about 5 minutes just by sideloading 4 apps.
Amazon does a lot of things well but their appstore is shameful. Without being able to install the Google Play store I'd personally have no interest at all in Fire tablets. Being forced to use the crummy Silk web browser alone would be enough to make me throw the tablet against a wall. Worse is the fact that Amazon hides all the web browsers from Fire tablets that are available in their appstore so you're forced to use Silk unless you sideload something else from another source.
Luckily Fire tablets support sideloading apps if you're finding Amazon's appstore lacking, so that opens things up quite a bit.
For those with Amazon Prime, Fire tablets are really nice because you have access to loads of free content in the form of Prime music, Prime videos, Prime ebooks, and there's free Audible content as well.
For people that don't have Prime and don't buy digital content from Amazon, it makes little sense to get a Fire tablet since the software is so heavily integrated with Amazon's services.
One of the new features with the HD 10 is hands-free Alexa support. Up until now I never cared much for using Alexa on Fire tablets, but the hands-free option makes it a lot more convenient. For one, it's nice to be able to turn on the Fire HD 10 by saying, "Alexa, home". No need to find which corner the power button is on and no need to swipe the annoying lockscreen. It's also nice being able to turn on music or an audiobook from across the room. You can even use Alexa to control smart devices in your home, such as lights, security cameras, and the thermostat (too bad I don't have any smart devices).
I don't like reading ebooks on tablets but comics look absolutely great on the 10-inch full HD screen. If you want to read ebooks, there are some extra features not available on Kindle ereaders, like the ability to use multicolored highlights, wordrunner, text-to-speech (with multiple voices to choose from), immersion reading where it highlights text while playing the audiobook, and the HD 10 adds two column mode for landscape view, which is quite nice.
Fire HD 10 Tablet Specs
10.1-inch IPS Display
1920 x 1200 (224 ppi) resolution
Quad-core processor: 2 x 1.8 GHz + 2 x 1.4 GHz
2 GB of RAM
32GB/64GB storage space
MicroSD card slot for cards up to 256GB
VGA front-facing camera; 2 MP rear-facing camera
Dual-band Wi-Fi a/b/g/n/ac
Bluetooth
Dual speakers
Microphone
Accelerometer
Ambient light sensor
3.5 mm stereo jack
Battery life: up to 10 hours
Weight: 17.7 oz. (500 grams)
Dimensions: 10.3″ x 6.3″ x 0.4″ (262 x 159 x 9.8mm)
Price: $149 and up at Amazon