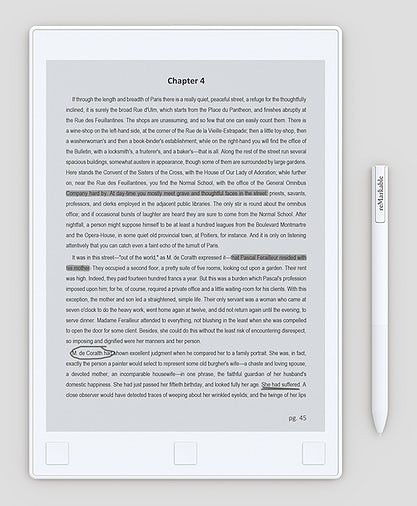 Review Date: September 2017 – Review unit provided by reMarkable
Overview
The reMarkable paper tablet is a 10.3-inch E Ink ereader and digital notepad developed by a startup company based in Norway.
It's designed to be a paper replacement type of device, with advanced sketching and note-taking abilities. For reading, it supports PDF and ePub formats.
The first wave of pre-orders started shipping in mid-September 2017, with more orders going out in late September and mid-October.
The reMarkable sells for $599 from the reMarkable website. They ship to the United States, Canada, and Europe (EU+EEA countries).
ReMarkable Review
Pros
The stylus works great, much better than any other E Ink device, and there's a wide range of writing and sketching features. Writing feels natural and the response is very fast, with no noticeable latency.
The 10.3-inch screen is a nice step up in size from a typical ereader, and it's not too big to be easily portable.
The build quality feels solid and the screen is virtually unbreakable (supposedly).
The software runs relatively smoothly and touchscreen responsiveness is very good.
Cons
Limited features for ereading.
Screen background color is a bit darker and grayer than other E Ink Carta screens.
No memory card slot and no internet access.
The stylus tips wear down after a few weeks and have to be replaced.
Verdict
With the initial release of the reMarkable, it appears that most of the focus has gone toward the writing and sketching features, which are very good and far exceed other E Ink devices, but the ereading aspects of the software are still a work in progress, so it makes it rather difficult to form conclusive opinion at this point in time.
There's a solid foundation in place, and the reMarkable team plans to add a number of additional features via software updates, but that's going to take some time. Right now the device excels more with writing and sketching than ereading. It will be interesting to see where the software stands a few months from now. Stay tuned to The eBook Reader Blog for more information as software updates get released.
Video Review: reMarkable Paper Tablet
Sony DPT-RP1 vs reMarkable Comparison Review »
Hardware and Design
The reMarkable is about the same size as a typical 10-inch Android tablet, but it's slightly longer due to the three buttons below the screen. It has a plastic frame with an aluminum panel on the back, along with two raised rubber strips to keep it from sliding around on a table.
It has 10.3-inch E Ink screen with 226 ppi. The screen is flush with the top layer and it has a slight bit of texture to it. The screen looks nice but the background color is slightly darker and grayer than other E Ink Carta screens, possibly due to the touchscreen layer or the PMMA cover lens. It makes it look more like an E Ink Pearl screen than a Carta screen. Don't get me wrong, the screen looks fine and is easily readable, but it lacks that magical quality of the new 13.3-inch Carta screens like on the Sony DPT-RP1.
The reMarkable has physical page-turning buttons below the screen, along with a home button. Currently the page buttons are the only way to turn pages; finger swiping isn't recognized by the touchscreen. This makes it kind of awkward to turn pages having to reach to the lower corner all the time since there's not a comfortable way to hold the device with a thumb resting on the button.
Touchscreen responsiveness is very good, much better than the Kobo Aura One for instance. I rarely have to tap something twice and it's always accurate and responsive with both the stylus and fingers.
Speaking of the stylus, it works exceptionally well. It doesn't have a battery like the Sony DPT-RP1's stylus, but it has similar felt tips that wear out and have to replaced every few weeks or so (they are estimated to last 3-7 weeks, depending on usage). It comes with 10 tips and more can be purchased from the reMarkable store.
The device has Wi-Fi but it can only be used for transferring files. There's now web browser or internet access.
As far as storage, it comes with 8GB of internal storage space, with about 7GB usable. It doesn't have a memory card slot. It has a 1GHz CPU with 512 MB of RAM, which is pretty typical for an E Ink ereader. For the most part the device is fairly quick and responsive, but it can get sluggish with large PDFs when using thumbnail view, and sometimes it takes a couple seconds to load when turning pages quickly.
At this point battery life isn't great, not what you'd expect from a Kindle for example, but it does last a few days. Their target for battery life is up to 5 days with average use, 2 weeks standby.
Loading Files
Currently the only way to load files onto the device is to use the reMarkable app on a computer to sync with your reMarkable account, which includes 8GB of storage space to sync with the device.
I had some problems with the app and the forced syncing is a bit of a hassle to deal with, but they're working on adding USB transfers soon, which works sometimes now but the feature is still in beta and needs to be finalized.
They're also working on getting apps up and running for Android and iOS, and they plan on adding support for cloud services like Dropbox and Google Drive down the line.
On the reMarkable's homescreen you can view your list of files using filters for notebooks, PDF documents, ebooks, and bookmarked documents. You can also create folders and place folders within folders to organize your content.
Writing and Drawing Features
The reMarkable offers a wide range of marking tools and it comes with a number of note templates. There are three different types of writing styles to choose from. There's a pen, pencil, and brush, each with three sizes and three colors. There are three styles of pens and two pencil options, and each reacts differently to pressure and tilt.
The reMarkable's stylus is tilt and pressure sensitive. It supports 2048 levels of pressure sensitivity and 512 levels of tilt.
There's also a highlighter tool and an eraser. The eraser can function as a typical eraser, or you can circle an area to erase, or erase the whole screen.
There's a moving tool that lets you resize, move, and duplicate anything you've written or drawn on the screen. There's also a layer tool to help when working with complex drawings, and the software has undo/redo functionality.
The files sync with the reMarkable app so you can access your notes and files with it. There's a LiveView feature to mirror the reMarkable's display on your computer too, but it's still in beta.
eReading Features
In terms of ereading features, the reMarkable is very basic. It supports PDF and DRM-free ePub files, but the software is still a work-in-progress so that makes it hard to review at this point. They plan on adding more features over time; I'll update this review to reflect any changes as they get added.
At present there's no table of contents, no dictionary, no bookmarks, no search, no active hyperlinks, no back button, no annotations list, no pinch-zooming, no finger-swipe page turning.
What it does offer is a jump to page option and you can view a list of thumbnails to move around parts of a book.
There are a couple of different ways to zoom in. It has a cropping option that works quite well, and there's a zoom dial to zoom in and out in increments. Zooming resets with each page turn but cropping remains.
You can add notes and highlights with the stylus, of course, but there is no list to view them or way to add bookmarks so it makes it kind of a hassle to find them unless you remember the page number they were on or manually scan through thumbnail view.
For ePub ebooks, there are a few options to customize line spacing and margins, and there are six font sizes and size font types to choose from.
Sony DPT-RP1 vs reMarkable Comparison Review »
ReMarkable Specs
10.3-inch CANVAS display, partially powered by E Ink Carta technology, no glass
1874 x 1404 resolution (226 ppi)
Capacitive touchscreen
Stylus pen included (electromagnetic
induction) with tilt detection and support for 2048 levels of pressure sensitivity
1 GHz ARM A9 CPU
8GB internal storage (~7.1GB usable)
512MB RAM
Dual-band Wi-Fi a/b/g/n
Supports PDF and DRM-free ePub files
Operating system: Codex, a custom Linux-based OS optimized for low-latency epaper
Menu language: English only
Battery: up to 5 days with regular use; 3000 mAh
Weight: 12.3 oz. (350 g)
Dimensions: 6.9″ x 10.1″ x 0.26″ (177 mm x 256 mm x 6.7 mm)
Price: $599 USD at reMarkable.com