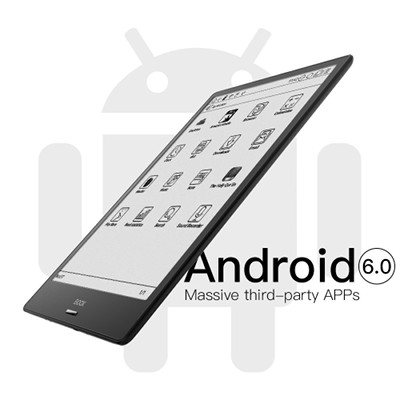 I've been testing out the new Onyx Boox Note and so far I'm impressed by how much nicer it is than previous Onyx devices that I've reviewed. The hardware has been upgraded and they finally updated the Android version to 6.0 so it runs a lot smoother than earlier models.
I'm especially surprised by how well the Kindle app works on the Onyx Boox Note. I tried it on the Boox N96 a while ago and the app was so slow and buggy it was pretty much unusable.
But on the Note the Kindle app works well enough that I actually don't mind using it.
With all other Android devices that I've reviewed, the Kindle app was either too slow or the page refresh wasn't good enough for me to want to use it on a regular basis.
The Kindle app does run a bit slower on the Note than it does on a tablet—page turns and opening menus takes an extra second or two—but overall the app runs fairly smooth.
One thing that's impressive is text doesn't start to fade with each page turn like it does on other Android ereaders; the text remains nice and clear and readable even after many page turns.
The only problem that I've encountered is sometimes the screen will flash for no apparent reason while reading. I'm not sure what causes it but it doesn't seem to happen very often. I read for about an hour this morning without it happening once, but other times it occurs with each page and is distracting.
I tried comics with the Kindle app and they work well on the Note too, if you don't mind a lack of color. The page refreshes properly and text balloons are easy to read. Panel view even works well.
I also tried an audiobook and it was playing okay but Immersion Reading wasn't working and it was too quiet even with the volume maxed so Bluetooth speakers or headphones would be needed.
The Onyx Boox Note is pretty expensive at $549, but it's among the first E Ink devices with a flexible 10.3-inch screen so it'll probably take some time for prices to start coming down. The 9.7-inch Kindle DX sold for $489 when Amazon first released it and the Note is light years ahead of it so the price really isn't surprising.
At any rate, it's nice to finally have a large-screen Kindle even if Amazon refuses to make one themselves.
Stay tuned for the full Onyx Boox Note review coming soon!
Video: Onyx Boox Note Kindle App