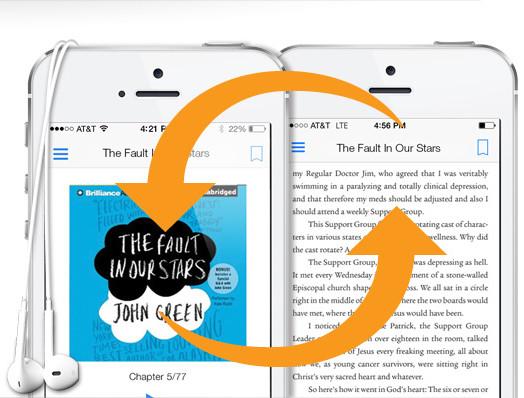 Each month Amazon gives away a free classic ebook and audiobook combination to help promote their Whispersync for Voice and Immersion Reading features.
There's some confusion about how it all works among users, so let's go over the details and explain how you can make use the free audiobook titles each month.
First off, Whispersync for Voice is only available in a few countries, including the US, the UK, and Germany, each from their own respective Kindle stores.
In order to make use of the Whispersync for Voice feature you have to own both the Kindle ebook version and the Audible audiobook version of the title.
You can use the Audible Matchmaker tool to find audiobook companions for ebooks that you already own.
Whispersync will make it so that your last page read syncs up between the audiobook and ebook. This makes it easy to switch back and forth between reading an ebook and listening to an audiobook without losing your place.
The cool thing is you don't even need to own a Kindle or Fire tablet to make use of this feature. You can use a Kindle app or an Audible app, and they are compatible with all major platforms.
Early Kindles have built-in support for this feature, plus all Fire tablets. The newer Kindle ereaders are out unfortunately because they don't support audio, both the older Kindles from the 1st gen model up through the Kindle Touch do support audiobooks.
The Kindle for Android and Kindle for iOS apps also directly support audiobook playback; you don't need to use the Audible app. Likewise you can use Audible apps for multiple platforms and devices in lieu of the Kindle reading apps to listen to the audiobooks.
Note that a subscription or membership to Audible is not required to make use of this feature or to listen to the audiobooks that Amazon gives away for free each month. They'll try to rope you into a monthly subscription but you don't have to sign up to create an Audible account.
Immersion Reading is an extra feature that works with Whispersync for Voice but it's currently only available on a few platforms. What Immersion Reading does is it makes use of the Kindle ebook and Audible audiobook at the same time by highlighting the words in the book as it reads the words aloud, which can be a very useful feature for learning to read.
Currently Immersion Reading is only available on Fire tablets and the Kindle for Android app. The first generation Fire tablet is not supported, however, just from the 2nd generation up. Interestingly they have a different setup in the UK where the 2nd gen Kindle Fire tablets aren't supported either. They also say the iOS app is supported, which isn't the case.