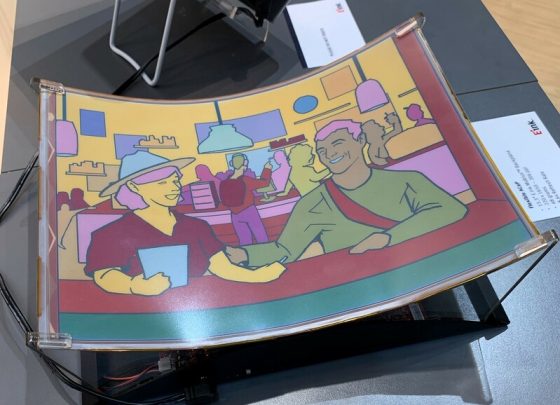 Back in 2016 E Ink unveiled their latest generation color screens called ACeP displays, which stands for Advanced Color ePaper.
E Ink has mostly been marketing their color displays for digital signage, but could they eventually develop ACeP displays to use with ereaders too?
E Ink had a 13.3-inch 300 ppi ACeP concept demo on display in their booth at SID 2019.
Their earlier ACeP displays had lower resolution that wouldn't work well for reading applications, but a 300 ppi color screen would certainly be sufficient for a reading device. However, the screen update time it still too slow at 2.8 seconds.
E Ink also had a flexible 13.3" ACeP screen with a Mobius backplane on display at SID (pictured above). It has a resolution of 2200 x 1650 (206 ppi). It only weighs 68 grams, but the refresh rate is a lengthy 8.6 seconds.
E Ink's ACeP displays contain micro-capsules with four color pigments—cyan, magenta, yellow and white. Those four colors can generate eight primary colors to produce over 32,000 colors.
I came across the YouTube video below of a German company advertising development kits for E Ink's 13.3-inch ACeP displays. The currently available ACeP displays aren't going to be used for ereaders but perhaps future versions could be.
13.3″ ACeP Color E Ink Display