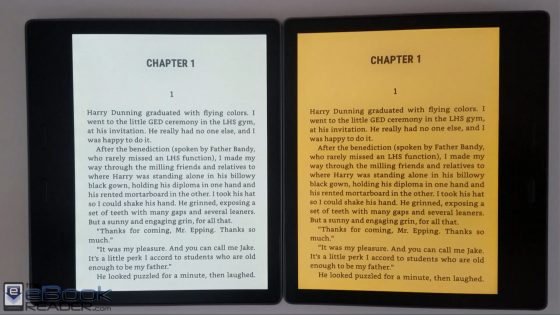 The option to use a frontlight with a warm color tone has been one of the most popular features added to ebook readers in the past five years.
The Kobo Aura One was the first ebook reader with an E Ink screen to get a warm frontlight setting, and it was released back in 2016.
Now most new ebook readers that get released have the option to customize the frontlight color using warm and cool color tones.
Amazon finally added a warm frontlight option to the Kindle Oasis 3 in 2019, but still none of the other Kindles support that feature. Along with USB-C, a warm frontlight is the most requested feature when it comes to the Kindle Paperwhite so we'll see if Amazon is listening or not the next time they release a new model.
Personally I've never been a fan of reading on an orange screen, but I do like adding just one or two notches of the warm light to soften the color of the cool light a bit, and I tend to leave the frontlight set that way all the time.
Even though I'm not a fan of the orange-colored light myself, I like how it gives users the option to decide what color they prefer to have instead of the manufacturer deciding what's right for everybody, and as long as you can adjust the intensity of the color and blend the two together it's a nice option to have even if you don't plan on using it all the time.
Frontlights were one of the best things to ever happen to ebook readers, and the option to customize the color tone to your liking has made them even better.
How often do you use the warm frontlight on your ebook reader? Do you use it all the time or just at night as originally intended?