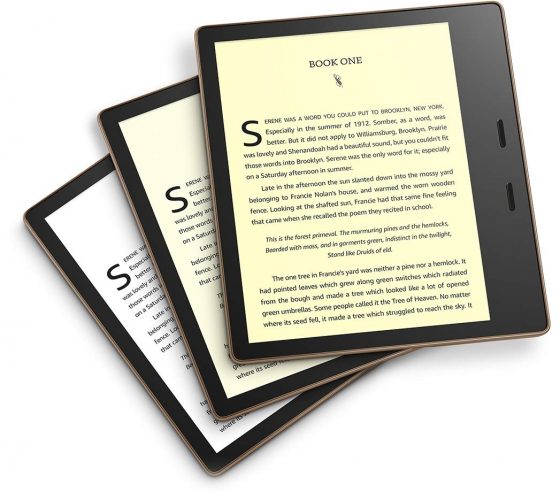 Here's another list of 10 free highly-rated Kindle ebooks for the weekend, along with some Kindle-related deals.
The Paperwhite 4 is on sale again but the price isn't as low as it has been in weeks past. I also noticed they have a promotion on the Kindle Oasis where you can get 15% off when buying two, but most versions aren't in stock so it's kind of a weird time to run a deal.
Please note the free Kindle books listed below are free as of October 2nd, 2021. Most of these titles are free for a limited time only and will expire in the next few days or hours before going back to the regular list price.
A good place to find more free Kindle books is on the free bestsellers list at Amazon.
You don't need to own a Kindle ebook reader or a Fire tablet to read these free ebooks; you can use free Kindle reading apps for iPad, iPhone, and Android devices, or use a computer or web browser.
Subscribe to The eBook Reader Blog to keep updated on future free ebooks posts, along with ebook reader news, reviews and how to guides, or you can follow this site on Facebook and Twitter to get updates.
Kindle Deals
Kindle Paperwhite 4 – $94.99 ($35 off)
Kindle Paperwhite 4 with Cellular Connectivity – $184.99 ($65 off)
Kindle Oasis – Get 15% off when buying 2 (might require Prime because I don't see the offer when logged out)
Get 20-40% off Kindle Unlimited Gift subscription
Kindle Unlimited Promos – Offers vary by account
Amazon First Reads – Free eBooks for Prime Members
Get 20% off New Kindle with Trade-in
10 Free Kindle eBooks
Retribution by C.M. Sutter
Thriller, 4.4 stars, 2753 reviews
The violent drug-related murders of two prominent attorneys have the homicide division of the Chicago Police Department scrambling for answers, but without clues, a motive, or a suspect, not even the FBI can track down the killer. With the media demanding an arrest and at their wits' end, the Chicago Police Department makes an urgent call to the Washburn County Sheriff's Office in hopes of bringing in Kate Pierce, a psychic detective, on the case…
Destiny Gift by Juliana Haygert
Fantasy, 4.4 stars, 128 reviews
In 2047, the world exists in permanent darkness. Nineteen-year-old Nadine, a student at NYU, works hard to better her family's life in the harsh conditions. When she starts having strange visions of someone named Victor, she tries to ignore the flashes, afraid she might be going insane. But when she bumps into a very real Victor, her entire world shifts. Her visions taking a turn for the worse, Nadine is bombarded with prophecies of eerie fates, unfamiliar gods, sharp-clawed demons… and instructions…
Man Down by Nathan Burrows
Thriller, 4.4 stars, 73 reviews
You don't have to be killed in action to be a casualty of war. Medics Paul Adams and Lizzie Jarman are one of the most welcome sights to injured soldiers in the war-torn poppy fields of Afghanistan. With red crosses on their arms and medical equipment strapped to their backs, they thunder into battle in a Chinook helicopter – straight into areas everyone else is desperate to get away from. In the middle of the fiercest fighting British troops have seen since the Falklands War, the medics are the last defence from death on the ground in some corner of a foreign field…
Dead Wrong (A Cree Blue Psychic Eye Mystery Book 1) by Kate Allenton
Mystery, 4.6 stars, 284 reviews
Dealing with ghosts is easy. It's dealing with the living that keeps me hiding in the shadows. Until Now. No one knows how a record number of cold cases are solved in Billson, Mississippi. No one knows that my psychic abilities are responsible for providing the clues to solve these dead files. And certainly no one knows that I'm the person providing the tips to my godfather at the local PD. That is until an attempt on my godfather's life puts him in the ICU…
I Can Eat a Rainbow by Olena Rose
Children's eBooks, 4.3 stars, 41 reviews
I Can Eat a Rainbow is a book for young children to learn, in simple terms, how important it is to incorporate fruits and vegetables into their diet. It is a bright and colorful book that will keep your children engaged and entertained along the way, complete with a rainbow of fruits and vegetables of their own to color!
The Vikings by History Compacted
History, 4.3 stars, 160 reviews
Brutal conquerors they were, but the Vikings were no mere savages. The Vikings had a unique culture and society that spread much influence through transcontinental trade and exploration into unknown worlds. Navigate the Vikings' journey from their first encounters with the inhabitants of the British Isles to their discoveries of Greenland and North America. Along the way, meet some of the
most famous Vikings to ever walk the face of the Earth…
The Fiera Princess by Emilia Finn
Fantasy, 4.8 stars, 200 reviews
Over four hundred years ago, Malachai Noble's family murdered mine. Days ago, he personally ordered the death of my best friend, and in doing so, stole whatever future Roman DeLuca and I were tiptoeing toward. Now I'm Malachai's prisoner, with no way home, and nowhere to go but forward.
He's my escort toward execution. But I go willingly, because the moment I step on to enemy territory, I intend to avenge centuries of sins committed upon my people. My name is Tallulah Aurelia Della Katarina King, and soon, I'm to be crowned queen of Luméa—but first, I must prove I don't need a king…
Hailey's Haven by Laura Scott
Suspense/Romance, 4.6 stars, 216 reviews
A safe place to call home…
After escaping her abusive foster parents thirteen years ago, Hailey Donovan thought her nightmare was over. Gatlinburg Tennessee had been a safe place to live, until she's nearly hit by gunfire while hiking the Smoky Mountains. Her instincts are to avoid law enforcement, especially handsome park ranger Rock Wilson, but when more gunfire echoes around them, they're forced to work together to escape…
The Duke Conspiracy by Wendy May Andrews
Historical Romance, 4.4 stars, 318 reviews
Miss Rosamund Smythe is finding the Marriage Mart a dead bore. She'd much rather continue working for her father as a spy than endure another minute of the Season. But things take an interesting turn when she overhears details of a plot against her childhood friend and first love. A family feud drove them apart years ago, but he still holds a special place in her heart, and she won't let anyone hurt him—not now, not ever…
The Navigator by P.M. Johnson
Science Fiction, 4.4 stars, 70 reviews
EARTH HAS CHANGED. The old world order collapsed following the meteor impacts of 2031 when fire rained down from the skies, instantly vaporizing millions. Billions more died during the Long Winter and resource wars that followed. Over one hundred years have passed since those devastating events and new societies have formed around the globe. In North America, the fragile peace that exists among the continent's independent nations and city-states is under threat…