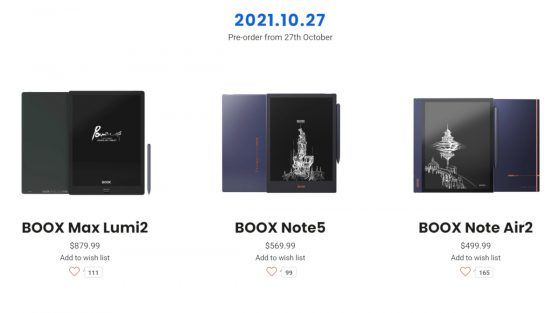 Today Onyx unveiled three new upgraded Boox models, the 13.3-inch Max Lumi2, and 10.3-inch Note5 and Note Air2 models, all with Android 11 and some new software features.
The new models come with some minor hardware upgrades, including more RAM and storage space, and now they're using a faster and more efficient processor. They also have a couple of new and improved stylus pens to go along with the new models.
The Note Air2 now has 4GB of RAM and 64GB of storage space (up from 3GB and 32GB on the first gen model). They also improved the magnet that holds the stylus along the side and the device now comes with a new type of pre-installed writing film to help improve the feel of the screen, like the Nova Air that was released a couple months ago. Otherwise it seems to be mostly the same as before.
The Max Lumi2 got a boost in RAM in storage as well, now with 6GB of RAM and 128GB of storage space.
It doesn't look like much has changed with the Note5, other than they changed the color and added a magnet to the sides to hold the stylus and to use a magnetic case.
Onyx still doesn't have the full specs listed yet so we'll know more once the product pages go up.
The bigger story this year seems to be a new 3.2 software update that adds a number of new features, including improved support for 3rd-party note apps like OneNote and Evernote.
Onyx's previous generation models are expected to receive the 3.2 update in November. They usually add most of the new software features, but they rarely update Android versions so don't expect any of the older models to get Android 11.
If the hardware upgrades don't appeal to you now is a good time to get a previous generation model at a discount. The Note Air is marked down to $419, the Max Lumi is $819, and the Note3 is $499 on Onyx's Amazon store.
The new models will be available to pre-order from Onyx's website starting October 27th.
BOOX Product Launch Event October 2021