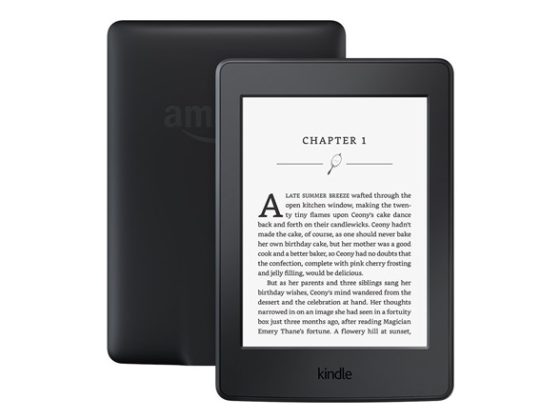 Here's a list of 10 free highly-rated Kindle ebooks to start off the week.
Amazon still has the entry-level Kindle on sale for $64.99 as well, and the Kindle Paperwhite 3 is available at Woot for $29.99 refurbished.
Please keep in mind the free Kindle books listed below are free as of September 12th, 2022. Most of these titles are free for a limited time only and will expire in the next few days or hours before going back to the regular list price.
A good place to find more free Kindle books is on the free bestsellers list at Amazon (but for some reason the list only appears on the desktop version of the site, not the mobile version).
You don't need to own a Kindle ebook reader or a Fire tablet to read these free ebooks; you can use free Kindle reading apps for iPad, iPhone, and Android devices, or use a computer or web browser.
Subscribe to The eBook Reader Blog to keep updated on future free ebooks posts, along with ebook reader news, reviews and how to guides, or you can follow this site on Facebook and Twitter to get updates.
Kindle Deals
Kindle – $64.99 ($25 off)
Kindle Paperwhite 3 – $29.99 refurbished
Get 20-40% off Kindle Unlimited Gift subscriptions
Kindle Unlimited Promos – Offers vary by account
Amazon First Reads – Free eBooks for Prime Members
Get 20% off New Kindle with Trade-in
10 Free Kindle eBooks
Bride of Fire by Glynnis Campbell
Historical Romance, 4.6 stars, 644 reviews
Beautiful, hot-tempered warrior maid Jenefer of Rivenloch is used to taking what she wants, whether it's command of her father's archers or the castle she's had her eye on for years. So when a heathen Highlander arrives to claim her prize, she schemes to run him off the land. Formidable Morgan Mor mac Giric proves a challenging foe, foiling her plans and taking her hostage. But as the Highlander reveals his tragic history, her heart softens toward the honorable laird and his motherless infant. And when the past brings a deadly threat to his heir and his clan, she becomes the fiery champion of his heart.
Hidden Prey by Cheyenne McCray
Suspense, 4.4 stars, 196 reviews
Tori Cox, a talented and sought-after musician, heads back to her roots to a small southwest town in Arizona as she flees an abusive relationship. When she arrives she witnesses the execution of a federal agent by the head of the Jimenez Cartel. The drug cartel kingpin orders his men to kill Tori before she can testify. Landon Walker, a special agent with the Department of Homeland Security, rescues Tori from members of one of the most ruthless cartels in the world…
A Magic Touch by Ward Parker
Paranormal Mystery, 4.3 stars, 1170 reviews
Be careful what you touch. My name is Darla, and people think I'm weird. I know this because I'm a telepath. After my second husband bails without a word, I'm moving back to my hometown, San Marcos, Florida, one of the nation's oldest cities. I'm here to open a nearly 300-year-old inn, and, hopefully, begin a new life. It turns out the inn comes with ghosts and other supernatural features. And the paranormal in my genes is going haywire. My telepathy has always been hit or miss. But now, along with the arrival of my first hot flashes, I gain a new ability: psychometry. By touching an object, I can read the thoughts and emotions of other people who have touched it…
The Body at Blackwell Lake by A.M. Caplan
Paranormal Mystery, 4.4 stars, 253 reviews
Cora Gilbert wishes she weren't a finder. Constantly overpowered by her strange ability to locate other people's lost items, the lonely adoptee worries she'll never have a normal life. But even she didn't expect her gift to bring her to the site of a murdered corpse. After the police find no clues to the culprit, Cora allows the victim's fiancé to persuade her to help him dig up evidence. But when she discovers the handsome man is not what he seems, the sensitive tracker fears the only thing her talent will lead her to is her own unmarked grave…
Dangerous Deeds by Beth Prentice
Mystery, 4.4 stars, 479 reviews
They say that love is blind. Sure, they weren't necessarily talking about old houses at the time, but that's the story I'm sticking with. And I like that theory a whole lot better than the one about me losing my mind. I knew that buying a fixer upper I'd be stumbling into an unknown abyss of demolition, dust and unfathomable costs, but I never expected to find an engagement ring and letters of forbidden love hidden under the attic floorboards. Nor did I expect the lazy cat, or the drop-dead gorgeous handyman. And I definitely didn't predict the stalker…
Outliers by Kate L. Mary
Science Fiction, 4.5 stars, 308 reviews
In the dusty ruins of the world, three groups exist: the Sovereign, the Fortis, and the Outliers. Indra is an Outlier. Living on land that has not healed from the poison of the past, the Outliers have adapted – but to the Sovereign and the Fortis, they are nothing. For centuries the Fortis have made their abuse of Outliers a sport, but when Asa comes to Indra's rescue, she sees something different in him. Something that marks him as so much more than just a Fortis guard. But when Indra's world begins to unravel, even the quiet alliance she and Asa have formed cannot save her from the wrath of the Sovereign…
Not Me by Kate Bold
Suspense Thriller, 4.3 stars, 2926 reviews
Camille's frustrations mount as she struggles to connect with her newly-assigned partner and as clues don't add up. To make matters worse, Camille is haunted by memories of her sister's disappearance years ago—and this new killer's victims seem to fit the same description. Could it be the same killer? Camille knows she must enter this killer's twisted mind if she has any hope of stopping him in time. But will he take her down with him?
Making Faces by Amy Harmon
Fiction, 4.7 stars, 72 reviews
Ambrose Young was beautiful. The kind of beautiful that graced the covers of romance novels, and Fern Taylor would know. She'd been reading them since she was thirteen. But maybe because he was so beautiful he was never someone Fern thought she could have…until he wasn't beautiful anymore.Making Faces is the story of a small town where five young men go off to war, and only one comes back. It is the story of loss. Collective loss, individual loss, loss of beauty, loss of life, loss of identity…
The Power of Your Subconscious Mind by Joseph Murphy
Nonfiction, 4.6 stars, 1966 reviews
"The Power of Your Subconscious Mind" will open a world of success, happiness, prosperity, and peace for you. It is one of the most brilliant and beloved spiritual self-help works of all time which can help you heal yourself, banish your fears, sleep better, enjoy better relationships and just feel happier. The techniques are simple and results come quickly. You can improve your relationships, your finances, your physical well-being.
Little Girls Sleeping by Jennifer Chase
Thriller, 4.4 stars, 5003 reviews
An eight-year-old girl, Chelsea Compton, is missing in Pine Valley, California and for Detective Katie Scott it's a cruel reminder of the friend who disappeared from summer camp twenty years ago. Unable to shake the memories, Katie vows she won't rest until she discovers what happened to Chelsea. But as Katie starts to investigate—her PTSD flashbacks kept at bay with the help of her loyal ex-military dog, Cisco—the case reveals itself to be much bigger and more shocking than she feared. Deep in the forest, she unearths a makeshift cemetery: a row of graves, each with a brightly coloured teddy bear…