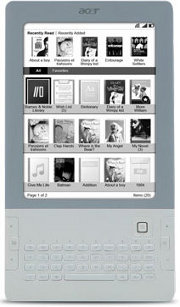 Acer just announced their new LumiRead ereader, a device that seems a couple of years late to the party (maybe it didn't get invited; after all, it is quite awkward in appearance). It has a 6-inch E Ink screen and a mini-keyboard like the Kindle 2. Other features include Wi-Fi and 3G options, Adobe DRM support, built-in web browser, 2GB of internal memory, and a microSD card slot.
It is DLNA compliant and works with Acer's clear.fi software, which is for sharing media across different supported devices over a network, and has an ISBN scanner.
The Acer LumiRead is yet another device that will tie-in with Barnes and Nobles ebook store, as well as Germany's Libri.de. From the press release:
Acer has already signed agreements with Barnes&Nobles, a leading US company offering over 1 million titles in its eBooks store, Libri.de, a Germany's leading Internet book retailer offering over 4 Million titles, which also distributes to book retailers through the wholesaler Libri GmbH, Founder, one of China's most innovative and influential high-tech companies, to provide localized contents in English, Chinese and German. But also French and Italian readers will be able shortly to read books in their languages, thanks to other agreements that are almost ready to be formalized.
There's no word yet on an official release date, but rumor speculates in July or August.
Source: ElectricPigUK and Engadget