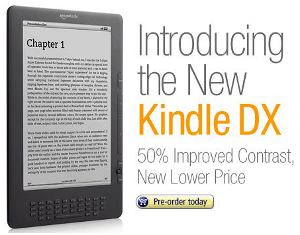 Amazon has really started taking it up a notch ever since Barnes and Noble released their new Wi-Fi only Nook last week. Just about everyday since then Amazon has issued a press release with another announcement regarding Kindle or Kindle ebooks in some regard.
This time Amazon has announced a new Kindle DX that sells for $379, $110 less than the original. It has a black casing (they call it graphite) instead of white and 50% better contrast than the previous Kindle DX.
The new Kindle DX is available for pre-order from Amazon.com and will officially be released on July 7th.
Other than the new color and improved screen contrast, all the specs for the new DX appear to be the same as the old, and it still comes with free 3G wireless that works in over 100 countries (check coverage map).
The press release doesn't specify what the exact difference is with the new screens, all it says is: "The new, graphite Kindle DX uses Amazon's all new electronic ink display with 50 percent improved contrast for the clearest text and the sharpest images."
So does this mean that we'll be seeing a new graphite Kindle 2 with improved contrast soon? Maybe. But probably not. Why would Amazon re-release the Kindle DX with new and improved contrast but not the Kindle 2? The only thing that makes sense is that Amazon has a replacement for the Kindle 2 on the way.