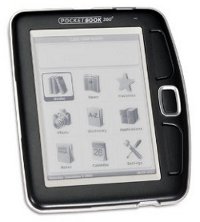 Following the current trend of ebook reader price-slashing, PocketBook has cut the prices of all three of their ebook readers in the US.
All three support a variety of ebook formats including FBReader, EPUB, PDF, RTF, HTML, PRC, CHM, DJVU, DOC, and TCR.
The new touchscreen, Wi-Fi enabled PocketBook 302 went from $339 to $279 on Amazon.com through TigerDirect. It even comes with a leather cover, stylus, wall charger, and a 4GB microSD card.
The popular 5-inch PocketBook 360 dropped from $239 to $199. It has a snap-on hard cover, G-sensor, microSD card slot, 512 MB of internal memory, and weighs just 5.3 ounces. This is the device pictured above. It also comes in Ivory.
And last but not least, the PocketBook 301+ went from $279 to $199. This is a much better price-point for an ereader that we just reviewed a couple of weeks ago. It has some solid features from a software standpoint but is somewhat dated hardware-wise. $199 now makes it the best option for a rebranded Netronix EB-600, better than the less expensive Kobo Reader because it is much more versatile with FBReader and PocketBook's firmware perks—and the fact that it comes with a leather cover weighs in its favor too.