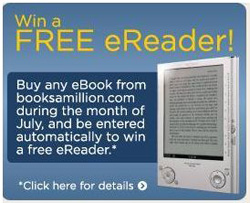 Books-A-Million, one of the nation's leading book retailers with 227 stores in 23 states, is giving away a shiny new Sony PRS-505 each day this month to promote their new ebook store.
In order to win the Sony Reader, you have to purchase an ebook from the Books-A-Million website to be entered into the daily drawings. Or you can send a self-addressed stamped envelope along with your email address to Books-A-Million (the address is listed on the contest rules page).
An interesting note from the contest rules, entries are not carried over to the following day. Meaning you have to enter the contest each day to win. Better odds of winning, but more ebooks to buy or letters to send.
It's a bit odd that they are giving away an ereader that Sony stopped making about a year ago, but the fact is the Sony PRS-505 is still a highly-coveted ebook reader; many people will probably enter the contest just to try and get one since they are no longer sold in stores and are way over-priced on the web (right now a new 505 is going for $249 on Amazon.com, while the newer 600 with several more features is just $165 on Amazon through Buy.com).
A quick look at the prices for Books-A-Million's ebooks reveals that quite a few are higher priced than competing ebooks stores. A lot of the main-stream bestsellers are the same price as Amazon and B&N, but some of the general titles appear to be more expensive. However, they have some sort of club to join where you get more $$$ off purchases—not sure if it applies to ebooks or not.
Also, their ebooks are in Adobe EPUB format. And most say they are only available to US and Canadian billing addresses.