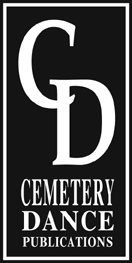 The Painted Darkness by Brian James Freeman is free in both ebook and audiobook form for a limited time from Cemetery Dance Publications, the leading specialty press publisher of horror and dark fiction.
The hardcover is currently available for pre-order from several sites like Amazon and Barnes and Noble, and will be released in November.
You may recall, Cemetery Dance is the publisher that released the First Edition Hardcover of Stephen King's Blockade Billy, becoming the first small press publisher to debut a new Stephen King book in decades.
Aside from publishing books, there's the Cemetery Dance Magazine, which has been around forever (I used to read it all the time). I found this quote from the CD website very interesting, given the current state of publishing:
"Our flagship magazine, Cemetery Dance, has won every major genre award and is healthier than ever — with a higher newsstand and subscriber circulation than ever before, ever-increasing advertiser support, and a continuing reputation for superb content and design. We're well-known for publishing the biggest and the brightest stars in the genre, often before they're discovered by the rest of the world."
Cemetery Dance Magazine is so popular among contributing authors that it can take well over 1 year just to get an acceptance (the odds are less than 1% so don't get your hopes up) or rejection letter for a submitted short story.
The ebook below is in PDF format—don't worry, it's formatted quite well—and will work on virtually any ebook reader. The ebook includes an exclusive interview with Ray Bradbury: 'We Have Too Many Inventions!', an afterword by the author discussing the free ebook promo, an interview with the author by Bram Stoker Award winning author Norman Prentiss, and a coupon for $5 off the hardcover edition at CemeteryDance.com.
Follow the link for the audiobook as well; it streams from the website. The narrator sounds slightly like Adam West. Spooky.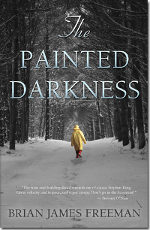 PDF eBook and MP3 Audiobook
When Henry was a child, something terrible happened in the woods behind his home, something so shocking he could only express his terror by drawing pictures of what he had witnessed. Eventually, Henry's mind blocked out the bad memories, but he continued to draw, often at night by the light of the moon.
Twenty years later, Henry makes his living by painting his disturbing works of art. He loves his wife and his son, and life couldn't be better… except there's something not quite right about the old stone farmhouse his family now calls home. There's something strange living in the cramped cellar, in the maze of pipes that feed the ancient steam boiler.
A winter storm is brewing, and soon Henry will learn the true nature of the monster waiting for him down in the darkness. He will battle this demon and, in the process, he may discover what really happened when he was a child — and why, in times of trouble, he thinks: I paint against the darkness.
But will Henry learn the truth in time to avoid the terrible fate awaiting him… or will the thing in the cellar get him and his family first?
Written as both a meditation on the art of creation and as an examination of the secret fears we all share, The Painted Darkness is a terrifying look at the true cost we pay when we run from our grief — and what happens when we're finally forced to confront the monsters we know all too well.
Download The Painted Darkness »
The FAQ for the free ebook is funny and informative at the same time. Here's part of what the author says . . .
Q: But why are you doing this?
A: I decided I really wanted this book to be read by as many people as possible. The Painted Darkness incorporates many of the themes that are important to me and it uses a style that is pretty familiar to my regular readers, so I want to see whether this free download will attract NEW readers to my work in general and help increase sales of the print version thanks to increased word of mouth.
Q: Aren't you afraid that giving the book away for free will hurt sales of the print edition? Isn't this a little crazy?
A: Well, we wouldn't be doing this if I thought that was a serious possibility. I guess it is possible I went crazy and no one could tell the difference? I guess we'll see.
Q: Are you an idiot?
A: I sure hope not. Would that be better than being crazy?
Q: About the story itself… is this a gory horror story?
A: No, not at all. Although much of my work has dark themes, I think you'll see that much of the darkness is internal. Blood and guts aren't my thing. I usually dwell on themes of loss and loneliness and small town life. I think readers of many kinds of fiction will like The Painted Darkness, which is one of the reasons I wanted to try this experiment. If you read the sales copy and the blurbs, you'll get a pretty good feel for the type of story this is. And did I mention it's free? Why not download the book and see if you like it?
Source: MobileRead