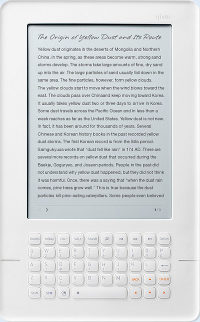 Buried at the bottom of pages and pages of news articles about the launch of the Borders ebook store, there's one single article with a press release that reveals an interesting story.
As it turns out, there's a new iRiver Story with WiFi coming to the UK "soon". It will sell from WHSmith and will connect directly to WHSmith's ebook store for downloading ebooks wirelessly.
It is expected to sell for £250, a hefty increase from the current WiFi-less model that sells for £149 from Play.com with free delivery.
£100 extra for WiFi?
Maybe the Story has some other new features too. For instance, the screen for the new one says it supports 16 shades of gray, instead of 8 with the earlier model. Perhaps they will be using a new Pearl screen from E Ink like the new Kindle DX. It doesn't mention anything cool like that in the press release, though.
The iRiver Story ebook reader has been on the market since Fall 2009, mostly available in Asia and parts of Europe, with minimum exposure in the US.
The device can the following text formats: Adobe EPUB and PDF, TXT, FB2, and DJVU, as well as Microsoft Excel, Powerpoint, and Word documents. The iRiver Story WiFi has a comic book viewer for JPG, GIF, BMP, and PNG files stored in compressed CBZ (ZIP) format.
Like the Kindle 2's evil EPUB supporting twin brother, the Story has mini QWERTY keyboard for writing notes, searching words, and all things typing. Other features include a built-in speaker, headphone jack, and microphone.
Visit our dedicated iRiver Story page for more information, photos, and a video about the iRiver Story.
Via: Hexus