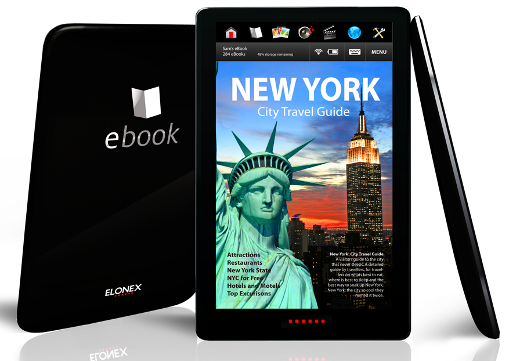 Elonex is a UK-based consumer electronics and IT service provider company that is best known for their laptop computers and digital photo frames.
Elonex first stepped into the ebook reader market last year with their rebranded version of the Netronix EB600, the Elonex eBook. The device sold exclusively from Waterstone's in the UK, but didn't remain on the market for very long.
Soon after it disappeared, a 5-inch keyboard-equipped model appeared on the Waterstone's website under the name Elonex 511EB. The device is still on the market and currently sells for £129.
Now Elonex is going to release their 3rd ebook reader, the Elonex eBook 710EB, in the UK on July 31st. Update 8/20/10: The device has seemingly disappeared. It is no longer listed anywhere and Elonex has yet to respond to inquiries.
The Elonex 710EB features a 7-inch TFT touchscreen display, the same size as the Pandigital Novel. And like the Pandigital Novel, it can display videos, photos, play music, and download ebooks wirelessly.
According to the Elonex website, the device has a battery life of about 8 hours. Not bad, considering the LCD screen.
The Elonex 710EB was up for pre-order on Amazon UK
for £139.
Unfortunately, there isn't any addition information regarding format support or any of the other specs just yet. It will most likely support Adobe DRM for PDF and EPUB formats, given Elonex's history.
Subscribe to this site's RSS Feed to keep updated on the latest details about the Elonex color ebook reader.
Elonex 710EB Video Demo at IFA