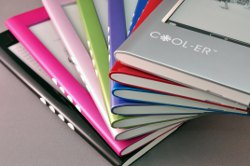 Some of the smaller companies in the growing ereader field are starting to thin out. The next to go is the Cool-er ebook reader by Interead.
It has been confirmed that Interead has been put into liquidation as of June 8th, according to a petition submitted to the Liverpool District Court in late March by Interead's PR firm, Beam Agency.
The Cool-er was launched just last year, with a primary focus on the UK market—they sold to a number of other countries as well. The Cool-er was a colorfully rebranded version of the Netronix EB600, the same device as the Kobo eReader and many others. It came in several colors and was marketed as an iPod for books.
The Cool-er website is still up, but the ereaders are listed as out of stock and have been for a while.
Interead also launched an ebook store for the Cool-er with ridiculously high prices compared to main-stream ebooks stores; that certainly didn't help matters any.
According to customers who bought the Cool-er, the device had a lot of problems and Interead's customer service was lacking. One annoyed customer, Dean Johnston, was nice enough to send in his thoughts about the Cool-er and Interead's customer service earlier this year with this article, Cooler E-Reader – Disappointing Quality and Support.
Since then, a number of people have left comments sharing similar stories about the Cool-er. Some people have sent their device in for repair and have never gotten it or their money back! That's certainly no way to run a company.
Via: Teleread and The Book Seller