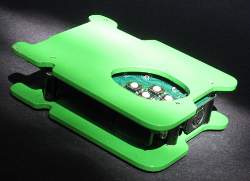 Found an interesting article this morning over on the Linux Journal about an ebook reader project that aims to make digital content available to schools and homes around the world that don't have access to the internet.
The device, called the Humane Reader, can be plugged into any typical television set, and can be produced for as low as $20 per unit. It can hold 5000 books using an SD card, enough storage to contain all of Wikipedia, which is the first content source provided for use with the Humane Reader. It has search capabilities and can also be connected to a keyboard.
According to the Humane Reader website, 80% of the developing world does not use or have access to the internet. But a great deal of people do own television sets, with an estimated half billion more TVs than internet connections in the developing world.
Given those kind of numbers, the Humane Reader could have quite a positive impact bringing educational information to those in the global community that don't have access to the internet for the content that we all take for granted. And for just $20 a unit to boot (pun intended).
The device is currently available to NGOs, educators, non-profits, and other aid agencies, according to their website. You can learn more about the Humane Reader and Humane PC—an 8-bit microcomputer—over on the Humane Informatics website. There is a PDF presentation slide and a video presentation.